Watching children grow up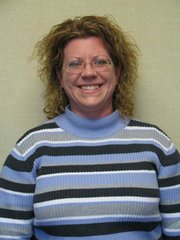 The first group of children to pass through A Deere Place is now a part of the junior class at Lansing High School.
"It's been good to see the kids grow up," Debbie Deere said. "It kinda makes me feel old."
For the past 18 years, Deere has worked in some capacity with children, but she didn't imagine she would be where she is today: She's owner and director of A Deere Place, the child-care facility at Lansing Elementary School.
When she first moved to Lansing, Debbie decided to open a daycare in her home. After a few years, she was taking so many requests from parents that she approached the school board about opening a daycare at the school. Now, students are dropped off as early as 6:30 a.m. and after school, they come directly from class.
"It's like an extension on the school day," Deere said.
Name: Debbie Deere
Address: 402 Maple Court
Occupation: Owner/director of A Deere Place
Graduate of: Hiawatha High School and Friends University
Family: Husband, Kyle; son, Blake, KU student, 20; two daughters, Riann, sophomore at Lansing High School, 16; Taylar, eighth-grader at Lansing Middle School, 13
How long have you lived in Lansing and what brought you here? We moved here in 1988 from St. Joseph, Mo., because Kyle got a job at Lansing Correctional Facility.
What do you like most about Lansing? All of the great people that I have met and worked with and the schools.
What do you do to relax? I like to spend time with family and friends and go to Lansing Lion activities. Riann plays volleyball, basketball and track at LHS, and Taylar plays volleyball and track at LMS. They both participate in music. I also like to read novels.
What would surprise people about you? What you see is what you get. I used to work at a Dairy Queen and I grew up on a farm. I'm a Kansas farm girl.
What's the best advice you ever received? My dad always told me everything happens for a reason.
What organizations do you belong to? Advisory committee for the Family and Consumer Science department at LHS, Volunteer for the Lansing Lion Volleyball and Football clubs, National Association for Young Children, Midwest Association for Young Children, School Age Alliance