City says 'thanks' to businesses
Salads and Solutions luncheon draws 80 business representatives
Economic development is a priority for Lansing city officials, but an event last week showed existing businesses in the city that they aren't being overlooked.
The city played host Friday to about 80 business representatives during its first Salads and Solutions, a business-appreciation luncheon at the Lansing Community Center.
The luncheon came at the conclusion of a three-month period in which Shanae Randolph and Lorraine Gulch, from the city's Economic Development department, visited each business in Lansing to gauge satisfaction with the city's business climate and to survey them about such issues as future expansion.
"Shanae and Lorraine visited over 120 businesses from October to January," City Administrator Mike Smith said in greeting the business representatives. "We found that a lot of businesses are looking to expand in the next five years, which is great. We also discovered that many businesses have some of the same questions : Where can we get good help? How can we keep them? And things like that."
The on-site visits, Smith said, opened up lines of communication and proved valuable for the city.
"We found a lot of things that you all needed to know from us were things that we take for granted and we do all the time," he said.
To assist the businesses, each place setting included a listing of area schools where job applicants could be found and a copy of the city's sign ordinance.
Mayor Kenneth Bernard delivered a presentation after lunch describing development projects underway in the city.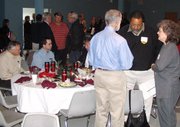 He also gave an informational talk to the business representatives about the April 5 vote on a 1 percent countywide sales tax.
Bernard reminded the business representatives that the tax would replace the current 1 percent sales tax, which expires at the end of 2006.
For the city of Lansing, the tax would raise an estimated $630,000 annually.
Bernard told those in attendance of a discussion he had earlier in the morning with Gov. Kathleen Sebelius, who was in town for a Lansing Educational Foundation fund-raiser.
"She said, 'Well, I need to thank Lansing. Your sales tax goes up every year and I'm thankful for the money you send to the state,'" the mayor said.
Bernard, in turn, passed on the thanks to the luncheon guests. "You are the people to be thanked for that. You are the ones with the increased business and sales, and we appreciate that."
Lunch for Salads and Solutions was provided by The Overlook with dessert from Connie's Cafe.