Students reflect on directing experience
After a month of rehearsals, planning, organizing - and a certain amount of frustration - first-time directors and Lansing High School seniors Ashley Kings and Elena Stephenson miss their productions.
"I'm really sad the show's over," Kings said. "During the show I was like, 'When is this going to be over?' But the last week, when everything started to come together, everyone got really close. Then it's all over, and you're like, 'Oh : all my work.'"
All that work involved a lot of learning for the novices.
"You can't show someone how to act," Stephenson said. "The worst thing to do is try to show them. You need to try to explain it the best you can, and if they still don't understand, try again."
Kings agreed and added that it had been really tough to get her cast together for rehearsals.
"I already had respect for the directors, but now they have all my respect," Kings said. "I know how much pain and grief and anguish they have to go through to get things done."
Kings said she missed acting and probably wouldn't immediately pursue directing. Stephenson, though, said the directing experience had made her seriously consider majoring in directing when in college.
Photo Gallery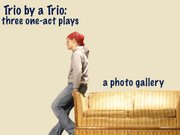 Trio by a Trio: one-act play gallery
Shots from Dreamwalk, The Old Lady Shows Her Medals, and Frankenstein Slept Here, performed by the LHS Drama club on Feb. 4 and 5.
"It was very rewarding," Stephenson said. "Now I can understand why directors get so frustrated when you forget blocking or little things or forget things they've told you in notes."
Both young directors recalled the worst and best moments of the road to opening night.
One of Stephenson's biggest frustrations came during a dress rehearsal when a key cast member was unprepared.
"She didn't know her lines, and she was laughing about it," Stephenson said. "It made me so mad."
One of Kings' problems also came during dress rehearsals when a cast member didn't tell Kings she had to work.
"I was like, 'I'm going to kick her out! I could learn her lines,'" Kings said. "I was so frustrated."
Frustrations aside, both student directors said they enjoyed the experience. And their best experiences made the worst ones worth it.
"I couldn't stop smiling at the curtain call (on opening night)," Stephenson said, smiling again at the memory. "I was just filled with so much pride. I was so proud of them."
Kings said opening night was amazing.
"Mr. Church and me and Elena laughed at my play (during rehearsals), but on Friday, just to hear everyone laugh - I was so giddy," Kings said.