Twitchell's steady hand sparking
LHS

offense
Lansing High girls' basketball coach Keith Andrews consistently has said his team's success had been a result of his players filling their roles effectively.
Junior guard Nichole Twitchell's role has been that of the sixth-woman, the first player off the bench most of the time. She has filled her role - and then some - during the past three weeks, and the result has been uplifting for the Lions (8-7 overall, 6-3 Kaw Valley League).
After scoring just 19 points in Lansing's first seven games this season, Twitchell has erupted for 69 in the past eight - an average of almost nine points per game.
"She's becoming so consistent now, and she's aggressive with it," Andrews said. "The shots will come and go, but she just keeps steady. It's a relief knowing we've got that fire power coming off the bench."
As evidenced by the slow start, however, Twitchell's confidence wasn't always sky high. She said she was frustrated with herself early in the season when her shots always seemed to rim out.
"You just get mad at yourself after a while," she said. "But it helps to have the support of the team behind you. I don't think they would be afraid to throw it to any single person. They have faith in everybody."
Her teammates and coaches told her to keep shooting, though, and Twitchell listened.
"I'm really proud of Twitch," junior Rachel Darrow said. "Her confidence level just wasn't there in the beginning, but now it's coming back. I talked to her a few times about not letting anything bother her. I told her, 'just do what you do best,' and that's what she's done."
Twitchell is at her best on the defensive end, so it's no surprise that her defensive tenacity is what ultimately kick-started her out of her shooting funk.
"I've always known that I'm better at defense," Twitchell said. "If shots just won't go in, that's what you have to do."
Starting with her seven-point performance against Perry-Lecompton, Twitchell began creating scoring opportunities by turning steals into coast-to-coast layups.
Soon after, her three-point shot and pull-up jumper started falling. She posted back-to-back double-digit outings against Silver Lake and Jeff West, and she poured in 11 points and blocked two shots in Lansing's 59-51 victory Friday night at Mill Valley.
Twitchell's shooting not only has bolstered Lansing's inside attack with senior Emily Goodlin and junior Amanda Radovich, but it also took some pressure off Darrow and helped her snap out of her own shooting slump.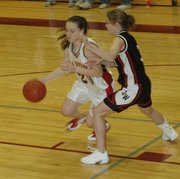 "I know they've been guarding me a little closer, and now that Twitch is there on the other side, she's drawing the attention away and I'm getting my shot back," Darrow said.
With Radovich, Darrow and Twitchell on offense, Andrews said that lineup would stretch defenses even further and create opportunities for more Lions to step up.
"Having Twitchell coming on, Katie Nietzke can hit some shots, and Monique (Richardson) is coming on, so everyone's starting to contribute," Andrews said. "Everybody can score. It's a real pleasure to have three or four people who can hit outside shots. As the season goes on, teams are going to pack it in on Amanda, so we'll need people to hit outside shots."