Tytla set to play two positions for juco power Coffeyville
Lansing High's football triple-threat will be just a dual-threat at the collegiate level next year.
LHS senior John Tytla, a standout kicker, wide receiver and defensive back last fall for the Lions will play receiver and kick next year for Coffeyville Community College. The Red Ravens finished the 2004 season 10-2 and ranked No. 3 nationally. Although he will no longer be playing on defense, Tytla said he was excited to have the opportunity to play at the next level.
"I'm going to miss not getting all the playing time," Tytla said of the duty that came with playing both offense and defense in high school. "It'll be different standing on the sideline a lot, but it'll be fun."
Tytla credited LHS football coach Bill Pekarek, his parents - John Sr. and Kathy Tytla - and his little brother, Tom, for supporting him and helping him make it to the college level.
"I'd like to thank Coach P, and thank my little brother for inspiring me through the season," Tytla said. "I also want to thank my parents for making opportunities open for me because without them I couldn't have gone to all of the camps and stuff."
Pekarek said he wanted to thank Tytla for his contributions to the Lansing football team during the past four years.
Pekarek said Tytla initially viewed himself as only a kicker, but he jumped at the opportunity to contribute in other ways and ultimately became an all-Kaw Valley League honorable mention selection on defense and second-team pick as a receiver and kicker.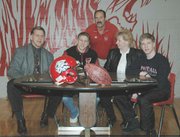 "Every year you could tell that there was something a little bit better about him," Pekarek said. "He just did a great job for us. I'm glad to see him going on, but I wish we could have him back for another year."
Tytla said he hoped to improve enough at Coffeyville that he could eventually play at the Division I level.
"I'm hoping I can take it to the Big 12," Tytla said, pointing out Kansas State as the school he'd ultimately love to play for. "That's my goal."