Wilson more than just a manager
After thinking of the right words to describe his appreciation for the contributions that Lansing High senior Michaelah Wilson has made to the LHS wrestling team during the past four years, one sentence finally rolled off coach Ron Averill's tongue.
"She's the big sister and a lot of times the right arm on this team," Averill said. "I can't express my appreciation enough."
"Right arm" may be perfect phrase to describe Wilson because for the past four seasons she has been Averill's right-hand woman - literally. In addition to handling the grunt work during practices, Wilson has occupied the chair to Averill's right at every LHS wrestling meet.
From that chair she has kept score of every wrestling match, kept Averill updated on the specifics of each match and kept the coach's schedule in order.
"Whenever I need anything, I can holler out for Michaelah," Averill said. "She knows what I want, and she knows how to do everything I need her to do. It's very nice being able to have a manger you can depend on like that."
At the Lions' Senior Night triple-dual on Thursday, Wilson was called into action again.
During junior Lance Fink's match against Mill Valley, the Jaguars' coaches disputed the score of the match. Their scorebook differed from the official book, but Wilson set the record straight when her book matched the official record perfectly. Fink eventually won the match by a point, and Lansing went on to win the dual.
Just another clutch play by the veteran manager.
LOST IN THE BOYS' WORLD
Wilson initially didn't plan to manage wrestling - she was talked into it by good friend Cambria Buellerman.
"Cambria used to do it in middle school," Wilson said. "At first I didn't want to, but she asked me if I would do it with her because nobody else would, so I said sure. Then she moved away, and I kept coming back."
Wilson admitted that at first she was a bit nauseated by the spit bucket in the wrestling room and having to clean the mats daily to prevent ringworm.
"They do gross things," she said, "but I got used to it after the first year."
The friendships she formed with the team and coaching staff kept her coming back year after year, and she became a mainstay with the program. She also became one of its most dependable and respected members.
"The managers have to show up here at 5:30 or 6 in the morning on Saturdays and stay all day at tournaments, and all day after school for practice," Averill said. "It's a long, hard, and, a lot of times, thankless job. I as a coach totally appreciate everything she's given us throughout the years."
MORE THAN A MANAGER
Quick story: After being pinned twice Thursday night in hard-fought matches, freshman Chance Thackston, Lansing's varsity wrestler at 103 pounds, slumped into a corner of the LHS gym with a scowl on his face. He clearly was frustrated at himself. Moments later, Wilson handed her scorebook to another manager and made her way to the corner of the gym to offer some sisterly advice. She tussled Thackston's hair and told him to keep fighting.
"They're all like my little brothers now," Wilson said. "I can't leave them."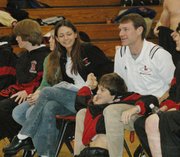 Suffice to say, the Lansing wrestlers wish she could stick around for another year. They say her words and actions do help and are always appreciated.
"She really helps a lot," Thackston said. "I get mad when I lose a match, and I'm pretty sure a lot of other people do too, but she helps comfort us and really helps us out. I think she'll be a big loss (when she graduates)."
The Lions know they can turn to Wilson outside of practice, too. Thackston said Wilson's always there to give him advice, whether it's about wrestling or just surviving a tough day as a high school freshman.
"I can talk to her during the day at school or during practice," Thackston said. "I see her as a big sister."
GOOD MEMORIES
Wilson plans to manage the track team this spring for the third straight year. After graduating in the spring, she will attend Kansas State University and major in veterinary medicine. There isn't a wrestling team at K-State, so she'll have to leave her life as a manager behind.
Wilson said she has plenty of fond memories from her time with the LHS wrestling team, though, and said she plans to drop in at meets occasionally to see how her "little brothers" are doing.
"I plan on coming back," she said. "I'm going to miss it, so I'll still come back to see them."
When Wilson returns, Averill said she'd be welcome with open arms by the team and coaching staff any time she wants to stop by.
"Michaelah's been awesome, and we're going to miss her," he said. "A lot of people don't understand the importance of the managers and the role that they play. They take a lot of the load off the coaches, from just the menial tasks of everyday stuff in the wrestling room to keeping score and keeping everything going. It's been an awesome experience being able to have her for all these years."