French Honor Society doubles size with induction of eight students
Lansing High School Societe Honoraire de Français, or National French Honor Society, inducted eight new members Monday, Feb. 7.
The inductions brought the group's total membership to 14.
After the society dined on crepes, part of traditional French cuisine, sponsor Mary Alice Schroeger stressed the importance of cross-cultural education and discussed the possibility of an exchange program with a French high school, possibly in the near future.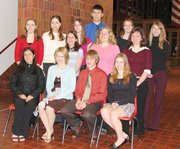 Membership in the society is open to students who had an A in or after their third semester of French, were on the school honor roll and have maintained an overall B average.