Lincoln Collection at St. Mary turns 35
Penny Lonergan had met but didn't really know Dr. Bernard Hall, whose 10,000-piece Lincoln Collection is now housed in the De Paul Library at University of St. Mary.
But Lonergan, director of the library, tells a tale of how it's believed the former Menninger psychiatrist came to fall in love with everything Lincoln.
"There's a story that Dr. Hall went to his grandfather's house, and his grandfather had a picture of Abraham Lincoln over the mantle," Lonergan related earlier this week. "Dr. Hall said, 'Well there's Honest Abe.' And his grandfather kind of drew him up short and he said, 'When you're in this house, you'll call him 'Mr. Lincoln.'"
On Monday, "Mr. Lincoln" and the 41 other men who have held the nation's highest elective office will be celebrated on Presidents Day. At St. Mary, the university will mark the day with its annual Lincoln Lecture, named in honor of the 16th president, who just happened to have made a campaign speech in 1859 in Leavenworth.
For 35 years, since February 1970, St. Mary has been the home to the Lincoln Collection. It was a gift of Hall, a lifelong bachelor.
"Hall collected all of his life, got to his 50th birthday, had no children," Lonergan explained. "He decided that he wanted to keep his collection in Kansas. He wanted it to be in an academic institution, he wanted it to keep his collection together."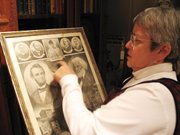 Hall decided on St. Mary for several reasons, Lonergan said, including it being in Leavenworth, where Lincoln once spoke, and because of the lobbying efforts of St. Mary president Sister Mary Janet McGilley and librarian Sister Mary Mark Orr.
Behind a nondescript door on the second floor of De Paul Library sits the collection - most of it books, but also photographs, paintings, statues, plates, coins, medals, documents, even a lock of hair purported to be from Lincoln.
Lincoln scholars don't exactly beat a path to the collection, which is largely uncataloged.
"It's really kind of funny," Lonergan said, noting that she rarely receives calls from scholars asking about the collection. "I'm not sure that any of the stuff that we have is actually particularly rare or inaccessible, but I don't know. And they won't know, either, because they don't know what we have, and we don't know what we have. They'd have to be looking for something specific."
But the collection is an attraction to the legions of people across the country who are captivated with the life of Lincoln.
"Most of the people who want to see this are just sort of Lincoln fans," Lonergan said, "the John Q. Public who is really interested in Abraham Lincoln."
When Lonergan says the collection contains nothing "particularly rare," she's exaggerating a bit.
The collection includes a souvenir copy of the 13th Amendment - signed by Lincoln, Vice President Hannibal Hamlin, House Speaker Schuyler Colfax and 36
members of the U.S. Senate - and a July 3, 1862, letter to a Maj. Gen. Wood signed by both Lincoln and his wife, Mary Todd Lincoln.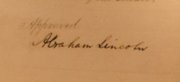 The signed copy of the amendment is one of only 14 known to exist. The letter, Lonergan said, is the only one known to exist to have been signed by both Lincoln and his wife.
Until two years ago, both were encased only in a Plexiglas sheeting, what Lonergan hypothesized was the best methodology for protection known at the time the documents were donated to the school.
In 2003, both were preserved, framed and sealed by Nancy Heugh, a fellow with the American Institute for Conservation of Historic and Artistic Works and a Kansas City-based conservator.
Lonergan remembers looking on when Heugh first received the amendment.
"When she took it out of that Plexiglas, she put it up on her work table." Lonergan said. "I felt really funny because, for some reason, it was probably like looking at your own infant or something, and I was pained because I thought it looked so vulnerable without being encased in something."
The copy of the amendment and the letter are so valuable that they aren't kept with the rest of the Lincoln Collection; instead, they're tucked away nearby in the vault at the Sisters of Charity-Leavenworth mother house. Replicas are on display at the collection.
But as for that lock of hair, it's encased in a frame tucked inside a china cabinet with the rest of the collection.
Lonergan, talking how "people go crazy about Abraham Lincoln," told of a phone call she received a few years ago from a veterinarian in Indiana who had a similar lock of hair purported to be Lincoln's.
"He really wanted me to tell him for sure that's Abraham Lincoln's hair, and I said I couldn't do that because we don't know. But - but - it's possible."
Lonergan went on to say that some of her research led her to a deposition given in the early 1900s in which the subject of the deposition said he and a couple of friends were in Petersen's Boarding House, across the street from Ford's Theater, where Lincoln was taken after being shot and later died. The man said part of Lincoln's hair was cut so that doctors could treat the gunshot wound. After Lincoln's body was removed, the man said under oath, he and his friends went into the room, collected all the hair and the bloody towels.
"So it's possible. I wouldn't say probable, but it's possible. I think that in the late 19th century collecting hair was in vogue," Lonergan said.