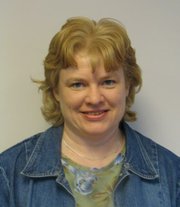 Kathy Edmonds is one busy lady. She works a full-time job, participates in numerous community activities and also is in the process of planning two weddings.
She is the mother of four, a speech and language pathologist with the Leavenworth school district and a volunteer curator for the Lansing Historical Museum on the weekends.
In addition to her commitment to volunteering within the Lansing community, she is also playing the role of family wedding planner. Both of her daughters will be getting married this year. Lindsay will be getting married in May in Lansing, and Adria is planning a September wedding in Kansas City.
The wedding-planning process has become more difficult since she organized her own wedding. "It only took me six weeks," Edmonds said. "They pay attention to a lot of details we never did."
Name: Kathy Edmonds
Address: 24468 159th St
Occupation: speech-language pathologist
Graduate of: Lansing High School, University of Kansas
Family: Husband, Ellis; daughters Adria, 26, and Lindsay, 22; sons Ellison, 19, and John, 17.
How long have you lived in Lansing/what brought you here? I moved here as a sophomore in high school when my father was transferred here to his job at the Farmland Industries Research Farm.
What do you like most about Lansing? The people and its location
What do you do to relax? Read and flower garden. Go on outings with family.
What would surprise people about you? I went to college on an athletic scholarship. (She played basketball and ran track. Her events were the 400 meters, 100-meter hurdles, high jump and relays.)
What's the best advice you ever received? Don't hold a grudge - life is too short
What organizations or clubs do you belong to? Lansing Historical Society, volunteer coordinator; Lansing Lion Booster Club, president; St. Martin Lutheran Church, ELCA; American Speech and Hearing Association, Kansas Speech and Hearing Association; Funnel Cake Club; Boling 4-H Club parent volunteer.