Pfrimmer primed for golf tournament in Georgia
Max Pfrimmer patted his son, Nick, on the head Friday night, flashed a smile and made an off-the-cuff observation about his son's golf game.
"He might beat me one of these days," he said.
Immediately, Nick wheeled around and stared at his father with an inquisitive look on his face, only to find his dad chuckling.
Nick Pfrimmer may be only 11 years old, but he's serious about his golf game. In fact, he has been so successful at such a young age that he has earned the opportunity to take his budding game to a grand stage.
Pfrimmer was invited to play in the second annual U.S. Kids Golf Jekyll Island Cup this Saturday through Monday in Jekyll Island, Ga. About 300 youths from across the country will participate in the stroke-play tournament, and Pfrimmer is one of just three in his age group who will represent Kansas.
The tournament will begin with a practice round Saturday and then follow with rounds during each of the next two days.
Age-group champions will receive an invitation to the 2005 U.S. Kids Golf World Championship, which will be July 27-30 in Williamsburg, Va.
Although Pfrimmer has been playing golf for seven years, the Jekyll Island Cup will be his first major tournament.
"I'm just going to do my best and whatever place I get is whatever I get," he said.
Pfrimmer said the tournament would offer him the best competition he had ever faced. He said playing with such talented players could be humbling.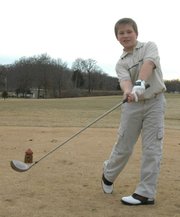 "It's just weird thinking about it because you don't really think you're that good of a player until you realize what place you're in," he said. "Then when you go there, you realize there's a lot better people than you. Right when you're thinking 'I'm pretty good, I'm ranked third in the state,' then you get beat."
Pfrimmer said he didn't expect to finish in first place at the Jekyll Island Cup but said if he did so and qualified for the world championships, "That would be freaky."
Perhaps the only challenge greater than the caliber of players he'll be facing has been preparing for the tournament in cold-climate Kansas. Recent snowstorms, ice and freezing temperatures have made preparation difficult, so Pfrimmer took a trip to Texas with his dad and grandpa to play a few practice rounds. When in Kansas, he said he goes to an indoor driving range about three times per week to practice.