Prison delivers bicycles for use in Iraq
Program also teams with Guard wings in Wichita, Topeka
Lansing's homegrown bike giveaway program has gone international.
About a dozen inmates of the Lansing Correctional Facility regularly work on restoring broken or worn-out bikes that are donated to the facility. The refurbished bikes are usually distributed to needy children across the state twice a year.
However, the prison is redirecting some of its products. On Friday, the prison donated 12 bicycles that will go to Topeka and then to Iraq. The prison is cooperating with the National Guard to make the donation possible.
"It's really a unique partnership with us and the prison system right now," said Lt. Col. Doug Jacobs of the combined Army and Air National Guard in Topeka. "It's kind of the beginning for us, and we hope to develop this into a larger process as we have more time and we can get them overseas."
The bicycles are intended for United States military to use while on base. Correctional Facility employee Carla Schermbeck said the inmates deliberately chose more muted colors for these bicycles so they wouldn't attract too much hostile attention on military bases.
Warden David McKune said he got the idea for shipping bikes to soldiers when a friend of his at Fort Riley asked around for bicycles to send overseas. McKune told him there was no need to spend money when the prison could supply bikes at no cost. McKune gave his friend the bikes, and that was as far as prison involvement went.
McKune heard later that they had been shipped overseas. Realizing that there were many soldiers for whom bicycles might prove a welcome gift, McKune came up with the idea of supplying bicycles to active duty soldiers on a much larger scale.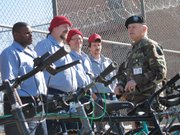 "I passed it up through my chain, sent it up through the deputy and secretary of corrections and said, 'Hey, at the next Cabinet meeting you might want to mention this to the governor.' That's when it went up to her, and she passed it down," McKune said.
Shortly after that, the warden was contacted by Jacobs and the ball was rolling.
The entire process began about four weeks ago, McKune said.
In addition to the 12 bikes donated to the military on Friday, McKune said there probably would be another shipment of about 40 bicycles in the next few months.
"It's a good cause," McKune said. "It's a neat thing to help them get around the bases easier."
On Friday morning, Jacobs drove a truck and a trailer to the East Unit of the correctional facility where the bikes are reconstructed. The inmates loaded the dozen mountain bikes onto the trailer and Jacobs brought them back to Topeka, where they'll be stored until there's an opportunity to ship them overseas, most likely to Iraq.
"A lot of the government money we spend we can't use to just package up bikes and send them over," Jacobs said. "So in order for us to send them over at military expense, we have to fit them in space available."
Initially Jacobs had thought the bikes would go to South America, probably Panama. However, those plans have changed, he said Monday. The unit that he was looking at has already pulled out to South America, so the next opportunity for the bicycles to be shipped overseas is with a group headed for Iraq.
"It'll be in the next couple of months," Jacobs said. " And we're going to continue to collect bikes."
Jacobs said bicycles also would be used domestically, at first for those working on the 190th air refueling wing in Topeka and the 184th air refueling wing in Wichita.
"Our soldiers and airmen, even though they're not overseas, they're supporting those kinds of events and it would come in handy for us to use them for the soldiers and airmen," Jacobs said. "Those bases are long from one end to the other."
He added that the bikes shipped overseas would see more use than just that of the military.
"After we finish with the bicycles and we get ready to depart from wherever we are, we will find a community organization - a school or a church - and we will leave (the bikes) for the local population," he said. "It will help somebody down the road."