Reading's a hit with manager
T-Bones boss challenges Intermediate School students to hit the books
When Al Gallagher, a 40-year veteran of professional baseball and the manager of the Kansas City T-Bones, stood in front of the fourth- and fifth-grade classes at Lansing Intermediate School and mentioned he spent 10 years as a sixth-grade teacher, the students gasped.
It seemed they had a hard time believing a man who spent so much time around a sport would've walked away from the game - even if only for a decade - and taken on a classroom full of students of his own.
Gallagher was happy to be back in the classroom Wednesday morning when he came to town to talk to students about the T-Bones Reading Program. Gallagher developed the program when he came to Kansas City to help start the now third-year franchise.
He began his talk Wednesday by posing a few questions to the students.
"How many people here want to be a professional athlete?" Gallagher asked as hands shot into the air like fireworks.
"Who here has heard of Michael Jordan?" Gallagher asked. "He went to the University of North Carolina."
Gallagher then asked about University of Southern California graduate Mark McGwire, Arizona State University grad Barry Bonds and University of Texas alum Priest Holmes.
"Did you notice those are four pretty good athletes and they all went to :" Gallagher prodded.
"College," the students replied.
That was the point behind Gallagher's appearance at the school. Sure, he has spent 40 years in professional baseball, but he spent 18 years of that time attending various colleges as he finished his master's degree in education.
He then took a 10-year hiatus from the ball field to work as a sixth-grade teacher in Fresno, Calif., before returning to the diamond.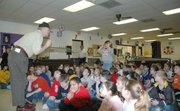 While in the classroom, Gallagher said he developed a deep belief that reading was essential to students' overall education and that the sooner they developed a love of reading, the better off they would be. That's why when Gallagher returned to coaching he started his reading program.
"I started this program 10 years ago in Bend, Oregon," he said, citing his days as manager of the Bend Bandits. "Everywhere I've 'managered' I've had this as part of my program as a commitment to reading because I believe the foundation of all education is reading. We have to do whatever it takes to get kids interested in reading, because then the rest follows. Once you're interested in reading, then you can do the other things."
The reading program works like this: If students in grades four through six read three books, they'll receive two free tickets to a game. Third graders must read five books to receive the free tickets, and students in kindergarten through grade two must read nine books. The books can be of the student's choosing, as long as their teacher and parents approve.
"I'm a real optimist," Gallagher said. "I realize that if I come here and one kid in this whole school starts reading because of something I said today, then I had a great day."
More information about the program is available at the team's Web site, tbonesbaseball.com.