Ready for regionals
Lions focused, fired up for 5A introduction
The Lansing High wrestling team will break new ground Saturday when it competes in its first-ever Class 5A regional meet, and the Lions say they're ready to rise to the challenge.
"Some people will say 4A is tougher," said junior Sean Flynn, a two-time Class 4A state qualifier. "It depends on the weight class, and every weight class is different. I think we'll do well at regionals, and I think people will step up a little more."
On the outside, the regional competition doesn't look to be too daunting with the likes of Topeka Highland Park, Washington, Wyandotte, Schlagle and Harmon in the field. Two foes stand out, however. Turner is the defending 5A state champion, and traditional power Shawnee Heights took sixth place last year.
LHS coach Ron Averill said he was confident the Lions would make a strong showing at regionals but said he would be able to gauge their chances better after tonight's seeding meeting when the brackets are set.
"That's when I'll get a chance to see what there is throughout the region," Averill said of the meeting. "I'm not real familiar with them. We know that Turner and Shawnee Heights both are going to be respectable teams. They'll have good lineups."
Lansing is expected to bring one of the most impressive lineups, though. After placing seven wrestlers in the championship finals last week at the KVL championships, the Lions are heading into regionals on a hot streak.
"I think everybody's starting to realize it's the postseason and every point matters here," Flynn said. "You have to do your best here, and guys are stepping up."
Six Lions will be looking to make a return trip to state after sophomores Kyle Buehler and Kyle Grape and juniors Flynn, Stewart Jones, Dennis Kessler and Ryan Civils battled at the state meet last year. A few others will be searching for their first state berth.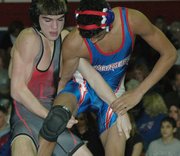 Among those hoping to earn their first trip is junior Jeff Terrill. Terrill has been one of Lansing's most dominant wrestlers in recent weeks and capped it off by battling his way to the KVL championship match at 145 pounds. The junior transfer from Fulton, Mo., said he's jumping at the chance to make it to state, and he said the Lions have been working hard to qualify as many guys as possible.
"I know every person here wants to be at state, and everybody's earned it," Terrill said. "This last week has been the hardest week I've ever worked in practice, and I know everybody else has been working hard, too."
All season Averill's goal has been to prepare his team to qualify 14 wrestlers for state. That remains the target.
"I don't know if 14 can make it," Averill said, "but that's what our goal is. I'm feeling real good. They've all been working real hard, they're in the right frame of mind, and right now, I think we're all just excited to get on down that road a little closer to our destination."