Sharpshooters shine again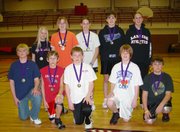 Lansing youths fared well at the Knights of Columbus District Free-Throw Tournament, held Sunday in Tonganoxie.
In the Girls Division, Alyssa Cole of Lansing won among 12-year-olds; Keasla Hundley of Lansing was the 13-year-old winner and Cassandra Murphy of Lansing was the top 14-year-old.
In the Boys Division, Clay Young of Lansing won the 10-year-old age group, and Calvin Schneider of Lansing was the 11-year-old winner.
The winners advance to the Regional Tournament at 1 p.m. Sunday in Meriden.