Sound Spectrum draws record crowd
Snow days may have kept the Lansing High School Sound Spectrum from practicing as much as it expected, but it didn't stop the event from being the largest it has ever been.
Sound Spectrum performed for more than 460 guests, 70 more than last year's show, for its annual Valentine's Day Dinner Show on Friday and Saturday.
The choir's only practice time outside of class was Thursday after school. A school closure due to snow prevented the group from practicing as scheduled earlier in the week.
"We knew we weren't quite ready for the Friday show, but we felt good about it considering the circumstances," said Jonnie Brice, Sound Spectrum sponsor and LHS teacher.
After working out some kinks on Friday, the group showed improvement at its second show.
"Saturday was stellar," Brice said.
Students audition to be a part of Sound Spectrum, which meets daily as a class. Freshmen are not allowed to be in the group but can participate in the Freshman Select Choir. Members of Freshman Select Choir participated in the event by helping to serve the lasagna dinner to guests.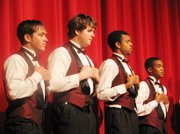 The choir used some songs from its fall concert and added solos and group choir songs to make up the 27-song repertoire. Brice chose many of the songs but allowed students the opportunity to choose, too.
The $4,000 that the group raised will go toward an out-of-town trip next school year. The band and the choir take turns traveling somewhere to perform. In the past, the choir has traveled on a cruise to Mexico and gone to San Francisco.
The money each student raises by selling tickets goes toward his or her own travel expenses. The money that the senior members raise goes into a pool that helps the group.
Although this year's 13 seniors won't be making the trip next year, they didn't mind helping to raise money for the trip because they remember when the seniors raised money for them, Brice said.
"This year's group really shows good team work," Brice said. "Their ability to give and take has made for a really smooth year."