'

Stepping out in faith' puts new resident in business
In September, David Escobar moved from Las Vegas to Lansing. By October he had quit his job with Osco Drug in Kansas City. And by early January, he had completely changed his life.
Escobar is the owner of D&G Christian Bookstore, which opened last month in downtown Leavenworth. D stands for David and G for Gloria, Escobar's late wife.
Though he has about 20 years of retail experience, Escobar has never worked in a bookstore. But he said he was called to the job.
"It was tough," Escobar said of quitting his old job, renting shop space and outfitting a bookstore. "But I just stepped out in faith and hope it works."
Though the store has only been open for a couple of weeks, Escobar already has big plans for the future. He envisions working a coffee station into the store so people can relax and spend some time browsing. He'd like to make a room at the back of the shop available for after-work Bible studies.
He used to own a silk screening shop and still has the equipment, so he'd like to get into faith-themed silk screening. Already his stepson, Maurice Spencer, has been crafting wooden gift items like pen holders, plaques and small clocks.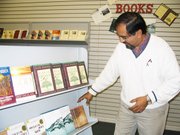 Spencer, who moved from Las Vegas to Lansing with Escobar when the latter's wife passed away, currently is the only other employee of D & G, though Escobar hopes that will change as business picks up.
"I've already had several people asking me if I'm doing any hiring," Escobar said. "It's a nice atmosphere."
The store sells Christian books and music, Bibles, some Catholic items, religious-themed apparel, the gifts Spencer makes and children's Christian books. Escobar said the children's items were his most popular sellers and that business had been picking up now that the weather had improved.
Escobar said he used to spend most of his extra money in Christian bookstores, a habit that led to his leap of faith in beginning D&G.
"One day I was here, and I was shopping to buy a Christian book. I couldn't find anything around. I found a couple of books at Wal-Mart, but both of them I already read. So one thing led to another and I said, 'Well, there's no Christian bookstore here in Lansing or Leavenworth,'" Escobar said. "And I just had the idea - God gave me the idea - to open one."
A Christian bookstore in Topeka, Escobar's hometown, was relocating and selling all of its fixtures. Escobar bought the fixtures, rented the building at 425 Delaware Street, and, with the aid of his family, worked for about three months to get the store running.
"I would say in about two weeks all will be pretty much where I want it to be for now," Escobar said. "I've had a couple of repeat customers. People are asking me to put fliers in their stores. Word's slowly getting out there. I've got some more books and music coming in."
Escobar, a dark-haired man of Hispanic background, attended Topeka High School and then Washburn University for three years, where he focused on social work. He worked part-time at the local Wal-Mart, where his first boss was the woman who later became his wife. Years later, Escobar recalled, she would tell people she was still his boss. They were married in June of 1993.
Gloria brought three children to the marriage and she and Escobar had a son, David, together.
Escobar also has a niece living in Lansing, Michelle Rohr. Escobar said he enjoyed the city's friendly people and atmosphere. He's lived in New Mexico, Oklahoma, Texas, Las Vegas and Kansas City through the course of his retail career but said he enjoys the small-town feel of Lansing.
The bookstore is open from 9 a.m. 6 p.m. every Monday through Saturday. On Sundays Escobar attends St. Francis de Sales Catholic Church in Lansing.