Doll Doctors work on little patients
A vinyl doll with a busted eye kept Patti Joyce up late with worry last week.
She contemplated exactly how she might be able to fix the doll's crooked, blinking blue eye. But as a doll doctor at the Doll Hospital in The Doll Cradle, 5725 Nieman, worrying over other people's dolls is part of her job.
"I really do eat and sleep doll repair," Joyce confesses.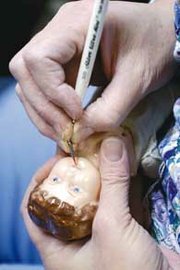 Take one step into The Doll Cradle, and it quickly becomes obvious that the store is every little girl's dream and a doll collector's idea of heaven, with a wide range of dolls, stuffed animals and accessories.
But at the heart of the store is the Doll Hospital, where six doll doctors, led by storeowner Connie Harrell, perform "surgery" on everything from a favorite teddy bear to an antique doll worth thousands of dollars.
The Doctor is in
The doll doctors take themselves seriously, wearing scrubs in colorful prints as their daily uniform.
"Most people think when you tell them that you work in a doll hospital that you're just playing dolls," Harrell said. "But it's really much more in-depth than you would think."
The hospital has doll surgeries scheduled for months ahead, and doctors often repair antique dolls worth $10,000 or even $20,000. But the doll doctors don't discriminate; any toy that needs repairs can receive them, though it may take some time. The Doll Cradle gets patients from all over the metropolitan area, and some have even been shipped in from the East Coast.
"When you bring a doll in, there's always 100 people ahead of you," Harrell said. "But we will stop for emergency surgery."
Harrell said the hospital performs "emergency surgery" whenever time is of the essence. This is usually a case of a child's "security" toy -- a favorite teddy or stuffed monkey they can't do without -- that needs an arm sewn back on or a hole patched.
Each of the doll doctors specializes in a particular area, hair, clothes, painting or porcelain, for example. Using several reference books, they try to restore older dolls as close to their original state as possible.
The doll doctors have varied backgrounds, though interestingly enough, a few have had previous medical experience. Joyce was once a nurse, and Thelma Miller, hair and clothing specialist, worked for a doctor for 40 years.
Though they began with varying levels of experience, all have since become experts in their fields after receiving training from Harrell.
"We all look up to her," Joyce said. "She's the head of the doll doctors; she's the doll doctor."
Working with their hearts
The store's attention to detail and care for everything it does is part of what has kept the store going for more than three decades.
"Everything we do, we do it like we're doing it for our own child," Harrell said.
The doctors have developed special counseling skills over the years, listening to the stories behind the dolls that they are taking in as patients.
When the doll doctors learned the story of one customer, whose brothers had buried her China doll at the foot of a tree nearly 70 years before, they encouraged her to go back to the old family farm and dig it up. When she brought back the China pieces, the doctors were able to recreate a cloth body and give her back her favorite childhood doll.
"That's why we get such joy out of it, getting to share people's memories," Harrell said.
The core of the doctors' passion for their work is certainly the ability to restore memories and a connection to the past by repairing customers' much-loved items.
"There's lots of things in your life that you can't fix that are important to you," Joyce explains. "But I can fix a doll for someone, and I'm so confident that I can fix anything. It's very gratifying and somewhat of a passion for me."
The doctors said the emotion that they see when owners get their just-like-new dolls back makes the work rewarding.
"There are people that actually cry when they walk out the door, because they're so very happy," Joyce said. "They came in with nothing, and we were able to fix it for them."
Harrell said that's why the doll hospital always keeps the customer's special connection to their toy in mind when they repair each and every doll.
"We work with our heart and try not to think about the cash register ringing," Harrell said.
A doll haven
The store will celebrate its 10th year in Shawnee this year. It actually first opened 35 years ago in Merriam, and it has been catering to the needs of every doll and stuffed animal lover ever since.
The store carries all types of dolls and their accessories, but provides many other unique services. It also works with doll collectors and can help appraise and sell collections. The store has its own large collection of antique dolls for sale.
In addition to antique originals, newer versions of the Ginny dolls from the 1950s and Kewpie dolls from the 1920s are also for sale. For those who prefer stuffed animals, the store carries the rare Steiff line of teddy bears as well as Ty products.
The store's services and products have earned it fame nationally.
"We're a destination store," Harrell said. "People come in from all over the Midwest to visit."
For example, Harrell said when the National Doll Convention was in Kansas City last year, the store had customers from all over the world. The store's doll experts also work nationally at doll shows in Chicago, St. Louis and Atlanta.
All of the national visitors are part of the reason the store moved to Shawnee in the first place -- it needed a bigger parking lot to accommodate the bus tours that stop at the store.
Harrell said a declining retail climate in Merriam, construction on Interstate 35 and the need for more space in the store itself were contributing factors to the move, as well.
Now that the store is settled in Shawnee, Harrell said her hope is to make sure that anyone who is a doll collector or who has a treasured family doll knows how to properly care for their dolls.
"We really want to get people informed of their family heirlooms," Harrell said. "People will come in with a doll that is worth $3,500, and they don't even know it."
As for the doll with the crooked eye, Joyce was able to fix it, though she had to rebuild the socket twice.
"It's a little sticky opening, but hopefully it'll work for her," Joyce said.
For more information about the store and its services, visit www.dollcradle.com.