When 1999 Lansing graduate Nick Runnebaum's picture was in People magazine this past week, it surprised everyone, including his mom Norma Runnebaum.
Norma found out that her son was a model in a Butterfinger Crisp ad from her son's girlfriend instead of her son, who lives at home while finishing a business administration degree at the University of St. Mary. The ad ran in several national magazines, including People, Family Circle and Better Homes and Garden.
"I didn't really tell anybody, so nobody knows," Nick Runne-baum said. "But they know now."
His teammates on the St. Mary football team weren't as surprised. They've dubbed him "GQ," referring to the men's fashion magazine Gentle-man's Quarterly.
His teammates put the ad on the bulletin board in their locker room and joked with Runnebaum to autograph the ad so they could sell it on eBay for a team fund-raiser.
Still, head football coach Scott Frear said he wouldn't be surprised if some of the players on the team were unaware that Runnebaum was a model.
"He's a really low-key guy," Frear said. "I'm not sure how many people know about the ad. When he's at practice, he's here to do his job and just be one of the guys."
Runnebaum's modesty wasn't limited to his family and teammates but also the seventh-grade basketball team he coaches at Lansing Middle School. Once the team found out, one of his players asked for his autograph.
The first time Runnebaum saw the ad was at his girlfriend Lindsay Hummer's birthday party when her mother pointed it out to him.
"It was weird. It was like I wasn't looking at myself," he said.
Runnebaum's appearance in his first national ad features him concentrating so hard on eating a Butterfinger Crisp candy bar that he ignores a two-headed dog next to him.
"It's kind of funny because I don't really eat much candy," he said.
Runnebaum said ate bagels to make his mouth look more full during the two-and-a-half-hour photo shoot in downtown Kansas City.
He said the ad's producers told him that his "Italian look" appealed to them.
"My mom is actually 100 percent Puerto Rican," he said.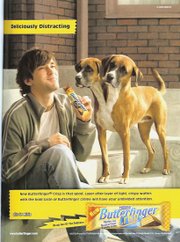 Runnebaum started modeling after he began working at Abercrombie and Fitch clothing stores in Lawrence, Leawood and Kansas City, Mo. After meeting a producer of AFTV, a promotional video shown in Abercrombie and Fitch stores, he auditioned to be in a windsurfing promotional video shoot in Hawaii. Instead, because of his basketball experience - he played basketball for Benedictine College for a semester in the fall of 1999 - the producer flew him out to California for a photo shoot on Laguna Beach.
After some coercing from friends, he decided to sign up with Voices& modeling agency. Since he signed up, he said his busy schedule with school, playing football and coaching has presented a challenge to find time for modeling. But he has had time for some modeling work for promotional events in Kansas City, Runnebaum said.
Runnebaum said he originally wanted to move to Lawrence to attend the University of Kansas. He changed his mind about school and opted instead for a manager's job at the Lawrence Abercrombie and Fitch. After Runnebaum had worked some 70-plus-hour weeks, he knew he needed a change.
"I had no plan," Runnebaum said.
So he contacted Frear at St. Mary's about playing football and finishing his business degree. He went through spring practices with the team in 2004 and red-shirted last fall.
"The coaches really care about you," he said. "You are not just a commodity to them but a person."
After football season ended this year, Runnebaum shifted his energy to his other passion, coaching basketball. He said he enjoys coaching middle-school-aged players.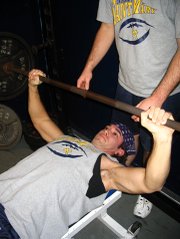 "You can really impact them at that age," he said.
His relationship with Frear has helped him become a better coach, Runnebaum said. Frear tries to instill that sports like any other activity is a life skill.
"He taught me that football is a luxury," Runnebaum said. "Family, faith and school come first."
Frear said he tries to get his players to focus on the journey and not the final scoreboard.
Runnebaum's journey has led him down many different paths since he graduated high school.
Although he has no plans to continue playing football after he graduates in December, Runnebaum said he planned to continue coaching at LMS, utilize his degree and continue modeling. He said he hoped to one day be on an Abercrombie and Fitch poster.
"It's the easiest money I've ever made," Runnebaum said of modeling. "I'd like to give it a try, and if nothing happens, that's OK."
Even if Runnebaum's modeling career doesn't take off, he has other aspirations. He would like to use his business administration degree to get a job in pharmaceutical sales or perhaps be a real estate agent.