Middle School squads wrap up seasons
Eighth-grade boys start slow, finish strong; seventh-graders steady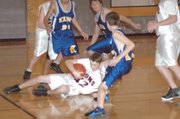 The Lansing Middle School boys basketball A and B teams experienced rollercoaster-like seasons with plenty of hills and valleys, but the Lions played their best basketball at the end of the season and finished strong.
The eighth-grade boys' A team posted a 6-8 mark this winter, but rebounded nicely after an 0-3 start. The highlight of the season was the Lions' run to the title game of the Lexington Trails tournament last weekend. Clayton Hall led the Lions with nine points, and Ryan Delich scored eight in their 40-26 victory over Lexington Trails in the first round.
In the championship game, LMS erased a 15-point deficit but eventually lost to Perry-Lecompton, 41-40. Wes Jackson scored a game-high 19 points in the loss, and Curtis Beall added nine.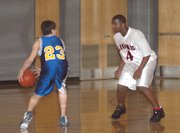 A team coach Sean Sachen said he thought the Lions showed a lot of pride in their final game as middle schoolers and said they improved tremendously during the season.
Coach Joe Douglas' eighth-grade B team also finished on a high note. The Lions ended their season with a 5-1 record, while the second B team went 0-6. LMS showed plenty of grit in its final home contest of the season Thursday afternoon as it rallied past Perry-Lecompton, 24-20, behind a seven-point effort from Paul Sargent and six points from Dylan Delich. Cameron Trowbridge added five points in the victory.
The LMS seventh-grade boys also put together a solid season. Under coach Terry Cornett's guidance, the Lions rolled to a 9-5 record and won two of their final three games.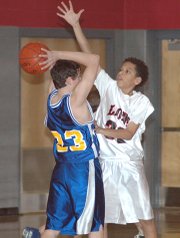 The Lions beat Perry-Lecompton, 30-25, behind an 18-point performance by Ben Kozak. After a tough loss to Tonganoxie, 49-32, they closed out the season with a 51-25 win against Perry.