Don't forget where you came from
One of the most rewarding experiences of my adult life has been the opportunity to serve you, the residents of Ward 1 and the city of Lansing as a whole.
I was born and raised in Lansing's 1st Ward, and you have all given me the background to be proud of who I am and where I live. You have also instilled in me certain basic values that help me live my life, such as "Be who you are, not who others would have you be."
I was born into a working-class family and live in a working-class neighborhood; a "what you see is what you get!" neighborhood; a neighborhood of loyal, dedicated family men and women who put on no airs to the world.
I try to carry that philosophy with me, not only in life but in serving you on the Lansing City Council.
I'm Dave Jr. or just Junior, and I represent and work with some of the finest people I've ever known. I am proud to be associated with the city staff, the city employees and my fellow council members.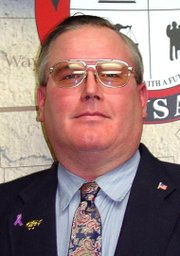 I serve the city of Lansing and the best interest of the city as a whole, but I'm your councilman. I can be called at any time with any problem you're having with city service or policy, and I'll do my best to apply the values you taught me. I'll speak plainly, and you may or may not like what I have to say, but you'll know I spoke the truth as I believed it to be. That's what living in the 1st Ward has taught me, and that's what I will give back!
We've got some things to accomplish in the city as well as Ward 1, things that I believe will improve our community as a whole - some you have even told me about personally. As with all things in government, the wheels sometimes turn slowly, but they do turn. I rely on each of you to be my eyes and ears, and I, in turn, will be your voice.
It's an exciting time in Lansing, with completion of West Mary and Fairlane projects, new housing developments, serious industrial inquiries and with stabilization of our infrastructure such as drainage solutions, graveled alleyways and with other street resurfacings.
I served on the committee to oversee the design of the Wastewater Treatment Plant; this is now online and planning to be dedicated this spring. I am an active volunteer in the citywide spring cleanup and in Lansing Daze, Fishing Derby and Spooky Center, to mention a few.
It may not seem like Towne Center is gaining, but it is. The mayor and City Council only want to put the best foot forward on this project to get the best outcome for the city as a whole. Look back on our Fourth of July fireworks - how it started and what it has turned into. Together, we'll keep our Lansing the community we all grew up in, live in and will spend our lives in; a community with basic values and good, salt-of-the-earth people.
Coming from a working-class family and neighborhood, I will always push for better city employee benefits and equipment and many other things in the thinking and planning stages, just as I have done in the past. My grandfather told me years ago, "Don't forget where you came from." I assure you, I won't!
God bless our troops.
-David Trinkle Jr. represents Ward 1 on the Lansing City Council