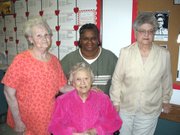 For the past 21 years, Jennifer Carpenter has enjoyed the company of the residents, staff and volunteers at Colonial Manor.
"I cannot think of a better place to work," Carpenter said. "We have a great family here."
She has been the activity director at Colonial Manor in charge of planning daily activities as well as seasonal activities like the recent Valentine's Day dance at the manor.
Carpenter chitchats with residents daily in addition to organizing time for them to exercise, play and listen to music.
"You get to hear a lot of good stories," Carpenter said. "They just have so much wisdom."
She finds working with the elderly to be a unique learning experience.
"I like to retrieve from them our real history," she said. "They are our real history."
Although she plans the residents' activities, she doesn't always find them entertaining.
"I hate Bingo!" she said.
Even though Bingo doesn't call Carpenter's name, she said that it is the residents' favorite activity, and it is held at least four times each month. Winners receive toys and stuffed animals, Carpenter said.
Carpenter encourages anyone who would like to volunteer or learn more about upcoming activities at Colonial Manor to call her at 727-1284.
Name: Jennifer Carpenter
Address: 210 Plaza Drive
Occupation: Activity Director at Colonial Manor
Graduate of: Lake Erie College, Painesville, Ohio
Family: Two sons, Leonard and Raszell; three grandchildren, Julisa, Justin and Jennifer.
How long have you lived in Lansing and what brought you here? 30 years; husband was last stationed at Fort Leavenworth
What do you like most about Lansing? I have enjoyed the nice, quiet town, but the new developments have made it different.
What do you do to relax? I like to travel to San Diego, Albuquerque and Ohio to visit family.
What would surprise people about you? I hate Bingo.
What's the best advice you ever received? All elderly people have intuitive wisdom that you can draw from them. They are a gift.