Parents as Teachers provides support group for parents of young children in Lansing
Usually, there's a waiting list for the Parents as Teachers group in Lansing. This year, however, the program has openings for a few more families.
There are currently 69 families enrolled in the program, but there is room for 75. The program is open to all parents with children younger than five, and there is no charge to join.
Parents as Teachers serves families with infants to children up to five years old. PAT is a parent education and family support program offered through Lansing School District. The group intends to educate parents about child developmental issues so they can help their children develop properly.
The group also provides a forum and support network for parents.
"It's a great opportunity to talk to other parents about what they are going through with their children," said Kendra Toedter. Toedter, a teacher at Lansing Elementary School, is a member of PAT and Program Coordinator Margaret Hartman's daughter.
The group generally meets on a large scale three or four times each year. Hartman and co-coordinator Barbara Goecke facilitate discussions on developmental issues at the meetings.
The program includes a playgroup on Tuesdays and Wednesdays from 9:30 a.m. to 11 a.m. at Lansing Middle School. In addition, Hartman visits the families at home about once every six weeks.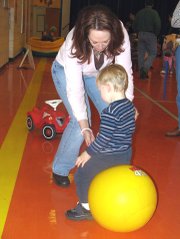 Hartman and Goecke also share information about child development with members of the group through home visits, playgroups and newsletters. The program is funded partially from private funds and partially through state funds from grants. For every $100 donated to the program, the state matches $65 of the donation.
Hartman said she thought the reason there were still openings in the group was the result of a move from Lansing Elementary School to Lansing Middle School two years ago. While the move gave PAT more space, it also made the group less visible to parents of younger children.
On Saturday morning, the group hosted its annual "Romp or Rumble" in the LES gymnasium. The event emphasized developing motor skills. Children played with balls, slid down slides and rode horses and bikes around the gymnasium while their parents played alongside them.
The event also included a raffle of items donated from local businesses, such as a rocking chair, a booster seat and a one-night stay at the Holiday Inn, from which the group earned $200.
PAT will meet again for its annual Easter Egg Hunt on March 26. The event is open to all children ages five and younger.
To join the group or to make donations, call Hartman at 727-1553.