Rebuilding process slow after house fire
Lansing chiropractor plays waiting game in three months since blaze
A Lansing chiropractor who lost his house in a November fire can sum up the rebuilding process in one word.
"Slow," he said.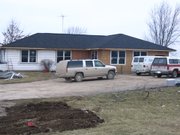 Jay Carter's house, 25076 Wolcott Road, succumbed to an electrical fire in November. The fire started in the garage and spread to the house. Carter said that among the fire, smoke and water damage caused, the house was destroyed.
Carter said in November that he planned to rebuild at the same location. The work has started but is progressing slowly, he said. A small portion of the house's frame is being reused, but for the most part, Carter said he'd had to throw everything out. Some of his losses include a Harley-Davidson motorcycle, a Victrola phonograph that was nearly 100 years old and photographs and mementos - all irreplaceable, Carter said.
At the time of the fire, Fire Chief Rick Huhn estimated the blaze had caused about $200,000 in damages. Carter said Monday the cost had exceeded that but insurance was covering the reconstruction.
Carter said he was staying in a rental until the house was finished.