12 wrestlers state-bound
Lansing qualifies record number for state meet
Bobby Hamilton had never qualified for the state wrestling meet prior to this season.
He hadn't even been to the state meet to watch, so the Lansing High junior has no idea what to expect when Class 5A state competition begins at 9 a.m. Friday at the Kansas Coliseum in Wichita.
Well, actually, he does expect one thing to happen at the state meet.
"I'm expecting to get in the finals, top six : hopefully top four," said Hamilton, the Class 5A regional runner-up at 119 pounds. "I'm hoping not to lose my first two and be out."
Whether Hamilton wins or loses, his very presence at the state meet may be somewhat of a surprise considering two of his six varsity wins this season came Saturday at regionals. He'll be one of just two wrestlers in his weight class with losing records. Hamilton isn't worried about records, though. He said he's focused on knocking off higher-seeded opponents and making a run at a state medal.
"They don't know who I am yet," Hamilton said, "so I'm looking to make a name for myself."
Lansing qualified a school-record 12 wrestlers for state. Only five schools qualified double-digit wrestlers, and only Turner (14) qualified more than LHS. Gardner-Edgerton also is sending 12 to state.
Of the Lions' 12 state qualifiers, six are new to the state tournament. In addition to Hamilton, freshmen Chance Thackston (103) and Nick Flynn (112), sophomore Casey Caton (160) and juniors Lance Fink (171) and Logan Ryan (215) will be making their first state appearances this weekend and all have high hopes.
Six other Lions have even loftier goals. Sophomores Kyle Buehler (125) and Kyle Grape (140) and juniors Sean Flynn (130), Stewart Jones (135), Dennis Kessler (152) and Ryan Civils (189) all are making second or third trips to state. Grape is the only one in the group who has placed in the top six before - he was fourth in Class 4A last year at 130 pounds - but all are expected to be in the running for medals.
Before the season began, Grape said his goal was winning a state championship, and nothing has changed.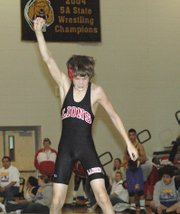 "I'm really looking forward to doing everything I can at practice and getting ready for this weekend," said Grape, who owns a 31-6 record this season. "The guy I have in the quarterfinals is from Mill Valley and I've beat him twice this year, and the guy I'll probably have in the semifinals was a state runner-up last year, but I should be able to beat him. I should be able to go all the way and take it."
Grape isn't the only legitimate title contender in the bunch. Buehler and the Flynn brothers are expected to be in the running for championships as well.