Police chase ends with arrest near Lansing
A 39-year-old Lenexa man is in custody for armed robbery after leading law-enforcement officers on a low-speed chase Tuesday through Kansas City, Kan., southern Leavenworth County, the heart of Lansing and Leavenworth.
The chase ended about 12:15 p.m. just north of Lansing, near Eisenhower Road and Main Street.
At the peak of the chase, more than 30 officers - from the Kansas Highway Patrol, Leavenworth County Sheriff's Department and police departments in Lansing, Kansas City, Kan., Basehor and Bonner Springs - were involved.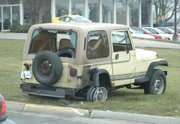 The incident began about 10:30 a.m., authorities said, shortly after an armed robbery was reported at Celsius Tannery, 8127 Parallel Parkway, in Kansas City, Kan.
A Kansas City, Kan., police officer noticed a Jeep that matched the description of the vehicle used by the assailant in the robbery at the tanning salon.
The officer gave chase but lost the Jeep. Moments later, officers in downtown Kansas City, Kan., saw the Jeep near 34th and Brown streets, said Maj. Donald Ash, a police spokesman in Kansas City, Kan. Officers again began chasing the Jeep as it headed west and north, eventually making its way through Lansing on Main Street.
As the convoy of authorities gained strength, it followed the Jeep to the intersection of Kansas Highways 7 and 92 near Fort Leavenworth. That's where the Jeep began to backtrack through Leavenworth.
The driver lost control of the Jeep in a field near Rusty Eck Ford. He momentarily regained control but went off the road again when a Leavenworth County Sheriff's car bumped the Jeep off the road just north of Eisenhower Road and Main Street.
Authorities moved in to block the Jeep. After the driver refused to come out, officers broke the windows of his Jeep. Because the driver had been seen throughout the chase brandishing a gun, authorities sent in a police dog to pull the driver out of the Jeep, Ash said.
The driver sustained minor injuries from a bite wound from the dog, Ash said.
There were no other vehicle or property damages reported, Ash said.
"Pursuits are always dangerous, but because of great assistance from neighboring communities this chase went smoothly," he said.
The driver is in custody in Kansas City, Kan., and likely will be charged in Wyandotte County District Court.