Bond of brothers
Wrestling, success run in the family for Flynns
For Lansing High brothers Sean and Nick Flynn, there hasn't been much of a head-to-head rivalry for superiority in the wrestling room.
It's more of a case of follow the leader.
Sean is a junior and wrestles at 140 pounds, while Nick is a freshman in the 112-pound weight class. Their age and weight differences prevent them from wrestling each other often in practice, but you'd better believe there still is a brotherly rivalry to be fought. It just takes on a different form.
Sean sets records, and Nick tries to break them.
Comparing Sean's record at 130 pounds to Nick's mark at 112 makes little sense; however, comparing Sean's feats as a freshman at 112 pounds to what Nick is doing at the same age in the same class provides a level playing field to judge the brothers' feats.
That's exactly how they're viewing it.
"I want to do better than him, but at the same time I want him to do really good too," Nick said. "It's like a competition between us, but at the same time we're rooting for each other."
For now, the bar is set at a 32-9 record and state tournament appearance at 112 pounds - Sean's major accomplishments from his freshman season.
Nick appears to be making plenty of headway so far. He is 11-1 at 112 pounds and has the Eudora Tournament of Champions title to his credit. That's an accomplishment that caught his big brother just a little off-guard.
"I thought he was going to do bad at the first tournament once he lost, but then he won Eudora," Sean said. "I was really surprised."
Nick lost his first match of the season - a 12-8 decision against St. Thomas Aquinas freshman Phil Henes - before rattling off his streak of 11 straight victories. The instant success has convinced Nick that qualifying for state is no longer a distant goal: it can be a reality.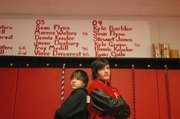 "The Eudora tournament was a huge turning point for Nick," LHS coach Ron Averill said. "Until that time, he was just stepping in and seeing what he could make happen. But he beat some quality kids there, and once that happens, the door kind of opens for you and you can really see what your opportunities are.
"I think he's excited about the opportunities that are presenting themselves. He's really starting to open up and seeing the reality that some goals that he'd set could happen earlier than he'd originally planned."
One of those goals is earning a state medal.
"I want to place in state," Nick said. "I don't know if it's going to happen, but I definitely want to."
Sean said it's a definite possibility for his little bro'.
"My freshman year I didn't do as well as he's done so far, and I was one match away from placing (at state)," he said. "I think he might be able to place this year at least in the top six."
If Nick meets his big brother's prediction, he could become the first Flynn to step onto the podium as a state medalist. Sean has been to state in each of his first two seasons - at 112 pounds in 2003 and 119 pounds in 2004 - but didn't place in the top six.
Sean isn't satisfied with just making it to state any more. He wants some hardware, and Averill said he thought 2005 will be his year to finally break through and bring home a medal.
"He basically stays focused and keeps progressing toward his goals," Averill said. "He's been able to do that throughout the year. He did a lot of work in the offseason and a lot of preparation. He has a lot of these goals and hopes and desires that he keeps close to his heart."
Sean seems well on his way to meeting those goals. He's 10-1 so far this season with a tournament title at Spring Hill and runner-up finish at Eudora to his credit this year. He's familiar with the competition he will face in the coming weeks and said he thought he had a good chance of going undefeated in Kaw Valley League matches this year.
"Things are going so good so far," he said. "I wish I hadn't had that one loss, but so far I've wrestled the best that I can, and I probably won't lose again until regionals or state. Hopefully I just keep getting better, and maybe I won't lose at all."
Although both brothers have individual goals and aspirations, they take their bond as brothers seriously and want to see each other be successful. They credit their father, Mike Flynn, for his early guidance on the mat as a coach with the Slammers wrestling club, and they credit each other for daily encouragement at practice.
"My brother has helped me out a lot, and I think it's good that he's here," Nick said. "He helps me out in the practice room. He drills with me some, and he shows me what to do and what's going on."
Averill said both Flynns have a good chance of making the trip to the Kansas Coliseum Feb. 25-26 for the wrestling state championships in their respective weight classes, though it is too early to predict how well they might do.
It is also too early, he said, referencing the brothers' rivalry for family superiority, to say which one will end their prep career with more honors and a better record. All he knows is that it should be fun to watch the competition play out.
"We haven't seen Sean (finish) yet," Averill said. "That's the saga that's still living on right now. I have no idea where these roads are going to take us. I'm just anxious to see how they both continue to progress."