Decision receives high marks in Lansing
Lansing School District officials said they were pleased with the Kansas Supreme Court's ruling that the Legislature hadn't met its constitutional mandate to adequately fund public schools and must take action on the issue by April.
While the ruling wasn't specific in its directions to lawmakers, district officials see the decision as a step in the right direction.
"We know that the state needs to spend more money, and the decision affirms that," said Randal Bagby, Lansing schools superintendent. "I'm very optimistic that they'll do something. The big question is, how much?"
Bagby said he hoped the ruling would serve as a catalyst to look at the formula used to determine how much money each of the state's 301 public school districts receives.
School Board President Shelly Gowdy said when she heard about the decision she did a "happy dance."
"What they're finding is what we've all been saying for a while now," Gowdy said. "I'm hoping with the April 12 deadline the Legislature will jump on this and do the right thing."
Bagby and Gowdy weren't the only district officials who saw the decision as a good sign for Lansing schools' future.
Lansing Intermediate School Principal Jan Jorgensen said she saw the ruling as a reason for optimism. She added that resources had been tight lately.
"I really hope that we do get more funding, because we obviously need it," Jorgensen said. "The cost of educating all the students is increasing."
Gowdy said with resources stretched as tightly as they had been, some district needs had been stalled.
"If they increase the base pay per day per pupil, it would mean we'd get more funding from the state to pay for our curriculum," Gowdy said. "We've put a lot of things on hold as far as purchases regarding textbooks and technology."
Bagby said he thought the money would help the district to better serve students and allow administrators to worry less about the cost of maintaining programs.
Gowdy said that cost had caused a constant struggle for the district.
"We've had to be very, very cautious about our spending because it has remained flat for three years and our costs have increased," she said.
Gowdy also pointed to the amount of money the district spends on special education. State and federal funding covers 85 percent of the cost of special education, leaving 15 percent for districts to cover.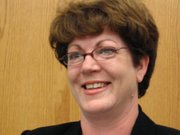 "It's a federally and state-mandated program," Gowdy said of special education programs. "Federally mandated programs should be fully funded by the government. They want achievement goals but haven't backed us up with the money to make sure we can meet those goals."
Bagby said he was looking forward to seeing what comes of the ruling.
"Really it's a very positive thing," he said. "The other side is I'm very hopeful the Legislature will act on it."