Graceful aging is doctor's goal
Dermacare and Wellness Center of Rock Creek is just steps away from Dr. Mark Strehlow's family medical practice, but it's worlds away from what many call "traditional medicine."
Aqua and lavender colors decorate the lobby walls of the Dermacare and Wellness Center, which opened Dec. 1 in the Rock Creek Medical Plaza, 712 First Terrace. A grand opening is tentatively set for sometime this month.
But it's not the colors that define the office; it's Strehlow's thoughts - and recent training - that do.
Strehlow, a board-certified family practitioner who received his medical degree in 1984 from the University of Kansas, recently completed training at the Cenegenics Medical Institute in Las Vegas. Now he's also certified in "age-management medicine," which he calls the cutting edge of preventive medicine.
"Most people say, 'I'm getting older, that's life,'" he said. "I say, 'Let's do something about that.' In age-management medicine, you try to get a person's body so they feel as good as they can feel and their bodies so they are functioning as good as they can function."
In traditional medicine, Strehlow explained, doctors treat symptoms. "We try to fix what's broken down, what's sick," he said.
In age-management medicine, he said, "We look at the body to try to get it functioning properly so the patient doesn't get sick."
'Hormone modulation'
At the heart of age-management medicine is what Strehlow calls "hormone modulation."
Even if hormonal levels are within the bounds of normal, the age-management theory goes, patients still can feel adverse affects, including tiredness, restless nights, mood swings, irritability, weight gain, loss of sex drive.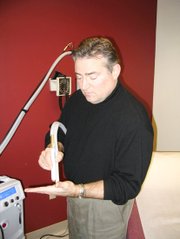 "Let's say for the thyroid, 'normal' is on a level of one to five. A patient has a two - that's 'normal.' But I'll want that patient to be in the upper end of normal, a four or a five. The key is getting patients optimal rather than normal."
To do so, Strehlow prescribes hormone replacement, using "bioidentical hormones" - hormones created from a plant source and synthesized to mirror the body's hormones, not animal or synthetic hormones.
Patients also are asked to make healthful changes in their diet and to exercise regularly.
The regimen, he said, helps patients feel better, more alert, less tired and healthier all-around.
"It's a fairly dramatic response in both men and women," he said.
For the long term
The wellness program is aimed at women in their mid-30s and older and men over 40. Women in their 30s typically start seeing a drop in progesterone on their way to menopause. Men, he said, experience suboptimal testosterone levels in their 40s on their way to "andropause," or male menopause.
He has patients as old as 86 already in the program, which he said was long term. Once hormone levels are initially regulated, twice yearly follow-up visits and lab tests are recommended.
"Patients will ask me when they can stop, and I'll tell them, 'When you're ready to feel old and feel like you used to, you can stop,'" Strehlow said.
For the skin
The other half of the new center is dedicated to the skin.
"The idea with the wellness program is that you feel good inside, now let's try to do something on the outside."
So the center offers its dermacare - for the skin.
Patients can undergo 10 different forms of massage therapy and microderm abrasion treatments - a sort of sandblasting for the skin.
Plans call for adding Botox and other "filler" treatments down the road, Strehlow said.
Up the ladder of high technology at the center is laser therapy, which can be used for facial rejuvenation, wrinkle reduction, removal of sun-damaged skin and age spots, treatment of spider veins and red spots, hair removal and acne treatment.
The center has two lasers with another expected for installation sometime in January.
Strehlow's father, Dr. Chet Strehlow, is the house expert on the laser side, Mark Strehlow said.
The two are partners in the business, which is separate from the Associates in Family HealthCare where the father and son are family practitioners.
The reason the center is separate from the clinic, Mark Strehlow said, is that most of the services in the Dermacare and Wellness Center are private-pay services. While some of the center's services may be covered by insurance, it is left to the patients - not the center - to file claims.
The future
Strehlow said he was determined to continue his family practice. "People keep asking me if they need to go find another doctor, and I keep telling them they won't have to," he said.
He and his wife are the parents of seven children, ranging in age from 1 to 17. As an adherent of the wellness program - he's a patient of the Cenegenics Institute where he trained - Strehlow said he's looking forward to being 70, fit and robust at his youngest child's graduation from college.
But, depending on the popularity of the Dermacare and Wellness Center, Strehlow has other, bigger dreams.
"My idea is to start at this level and see if we can expand to a full medicinal spa," he said, noting there's nowhere in the Kansas City area that offers such services.
"I don't know if we'll get there, but that's a dream of mine."
For now, though, he's content on growing his new business, which he said already was attracting people from the metropolitan area, plus other parts of Kansas, Missouri, Oklahoma, Nebraska and Iowa.
"It just seems to be spreading by word of mouth, and people are willing to drive for these kind of services," he said. "It's a neat thing to be able to offer here in Lansing."