Lions aim to sink Pirates, extend winning streak
It wasn't so much playing Tonganoxie on Tuesday night that had the Lansing High girls' basketball team fired up this week; rather, the Lions were stoked to be playing a game - period.
They'd won three straight heading into winter break, so after a two-week layoff they were eager to continue their winning ways.
Freezing rain and icy roads caused Tuesday's game to be postponed, however, so the Lions (3-2) have redirected their eagerness and focus to their 6 p.m. game Friday at archrival Piper.
"We were looking forward to playing (Tongie), and now we're not playing them, so we've just got to turn the next page and get ready for Piper," LHS coach Keith Andrews said. "Our goal regardless was to win the next game, and that hasn't changed."
A win against Piper would solidify Lansing's spot in the driver's seat of Kaw Valley League play. The Lions already are 2-0 in the KVL after beating Basehor-Linwood, 49-31, and Mill Valley, 53-41.
"We're in a great situation with two wins in the league," Andrews said. "The goal now is to win this game and go to 3-0 in the league. If we can win a road game, that's a plus, but if we can get a win, that's the main thing. We've got to take care of our business and keep winning."
The Pirates are a beatable team, too. They lost their starting point guard and a starting forward from last year's team and have struggled early, winning only one of their first five games.
Still, Andrews admitted he knew little about Piper. He'd planned to have an assistant coach scout the Pirates' game Tuesday night against Immaculata, but that also was canceled.
"It's just another blind-looking opponent, I guess," he said.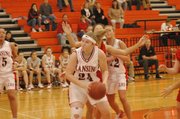 Andrews said the Lions weren't too worried about what Piper would do. Instead, he said they were continuing to focus on perfecting their own offense and defense.
"A little tweak here and there," he said. "You're still preparing to play. It's just a different opponent.
Andrews said he wasn't worried about his players losing focus despite the threat of winter weather leading to more cancellations. He said seniors Emily Goodlin, Melissa Casto, Kendra Sickinger and Monique Richardson have made sure everybody continues to work hard.
"I'm real pleased with the senior leadership and enthusiasm," he said. "Those four kids have done great job buying into the program, being positive and leading us. The young kids have fallen in real well and are doing a great job following them. Now we're just real anxious to get back on the court and play."