Keeping the 'dos in style
Linda Powers and Foxy Lady Hair Design have been consistently clipping in the changing Lansing community more than 25 years without many makeovers.
For 38 years, Powers has been cutting everybody's hair but her own. She depends on her co-stylist, Susan Dean, for that.
Powers and Dean went to Lansing High School together and later reunited at Foxy Lady when Powers bought the salon in 1980.
Throughout the years, more beauty shops have come to Lansing, but Powers' clientele has not changed.
"We have our regular customers that have been coming to the salon for years," Powers said. "They know we know what to do with them."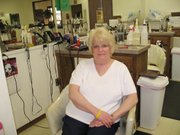 The steady business has helped the salon survive the influx of similar businesses in the area.
"Hair salons are now like gas stations popping up on every corner," Powers said. "It would be a lot harder to start a salon now than it was when I bought the salon."
Instead of competition, Powers sees more of a camaraderie between the salons.
"If someone needs something, like a frosting cap, we call one another and help each other out," she said.
The styles have changed over the years, but Powers' favorite 'do to do is the backcomb (the beehive), one she has been doing since the 1960s.
"It's never completely gone away," she said.
Name: Linda Powers
Occupation: Hairstylist
Graduate of: Lansing High School, 1966
Family: husband Bob, son Dale Bohannnon II, daughter Dawn Hudson
How long have you lived in Lansing and what brought you here? Born and raised here; left for six years from1975-81 (to live in Topeka and later Arizona). Came back and bought salon. Still here!
What do you like most about Lansing? In the early years we used to know everyone, but it has gotten to be too big for that now. But it still has a small-town flavor.
What do you do to relax? Sit at the computer. Occasionally go to the boats.
What's the best advice you ever received? Enjoy your life and family. Life is short.
What organizations or clubs to you belong to? I am vice president of the Lansing High School Alumni Association. We raise money for scholarships for Lansing seniors and college sophomores. Former member and officer of the Lansing Lionesses (a disbanded club).