Slick streets, power outages greet city
Sleet, snow, ice and slush may have coated the streets, trees and lawns of Lansing, but city employees and residents worked hard to keep the bad weather at bay.
In the 24-hour period ending at noon Wednesday, Kansas City International Airport - the closest National Weather Service recording station - reported just .07 of an inch of precipitation had fallen.
But that translated into treacherously slick conditions throughout the region. It also caused cancellation of classes Wednesday and today for Lansing public school students.
Public Works Director John Young said a six-person crew was out Wednesday in various areas of the city, spreading a salt-sand-chloride mixture on the roads to melt ice.
He said plowing wouldn't begin until there had been at least 2-3 inches of snow or ice accumulation.
"We're just going to have to see what the storm brings," Young said. "We have some additional personnel we can call in, but right now we're doing just fine with one crew."
Though a drive through the city showed areas where tree branches had fallen from the weight of the ice, no downed trees have been reported, Young said, adding, "We've been very lucky in that respect so far."
He said the crew worked all Tuesday night and took one break, from midnight to 4 a.m. Wednesday.
City Administrator Mike Smith said there had been a power outage from 4 a.m. to 7 a.m. Wednesday in the area from Mary Street to the southern Lansing city limits, including City Hall.
Allan Hagge, director of operations for Westar Energy in northeast Kansas, said that of the 300-400 Lansing customers who lost power Wednesday morning, he didn't know of anyone whose power hadn't been restored.
"Lansing's hanging in there," Hagge said late Wednesday morning. "I think it's good to go at the moment."
There was only one reported weather-related traffic incident, Police Chief John Simmons said. Midmorning Wednesday on the 900 block of North Main Street, a vehicle lost control and spun into another vehicle that was headed in the opposite direction.
Simmons said there was minimal damage, and no one was injured.
"Folks are heeding the warning that the roads are bad and staying home," Simmons said, crediting extremely light traffic with the small number of accidents.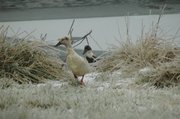 Residents also can expect mail delivery despite the slippery weather, although on a slightly delayed schedule.
"The mail's just fine," said Kenny Howard, Lansing Post Office employee. "It's nice and warm and cozy, and it's on its way out. It might be a little slow, but you've got to expect that. Everybody's here, nobody called in sick, they're all out and about."
Pizza deliverers are also out and about. Lansing Pizza Hut Manager Chuck Morrison said business was brisk in the lunchtime hours Wednesday and he expected an unusually busy evening. Tuesday night was one of the busier delivery nights, Morrison said, with about 70 percent delivery and 20 percent carryout and very little dining room. Normally, he said, delivery comprised about 50-60 percent of orders.
Residents have been busily buying winter-weather related items, said employees of the Tractor Supply Co., 1111 N. Main St., and Lansing Lumber, 211 N. Main St.
Charlene Edmonds, assistant manager of the Tractor Supply Co., said sales of cold weather aids had been going really well.
"We have sold lots of items," Edmonds said. "Of course ice melt, but also lots of heaters, anything that operates off kerosene or propane. Everybody's looking for generators. It's been very busy."
Edmonds said the store's shipment of generators, scheduled to arrive Tuesday night, had been delayed in Iowa due to bad weather.
Lynn Genter, a salesman at Lansing Lumber, said that store's ice melt had been going quickly as well.
"We had ten 50-pound bags (of ice melt) and we sold all we had of the 50s," Genter said.