Going Deep
12-player rotation paying dividends for Lansing girls
It is not unusual to see first-year Lansing High girls' basketball coach Keith Andrews go 12 players deep on his bench in any game. He's done it in five of the Lions' six games this year.
What is unusual is seeing a team receive as many quality minutes from the 11th and 12th players off the bench as Andrews gets from his squad. Never has that been more apparent than Friday night in Lansing's 61-45 victory at Piper.
Twelve Lions played; nine scored. All played major roles in the win as LHS earned its fourth straight victory, improved to 4-2 overall and remained a perfect 3-0 in Kaw Valley League play.
As usual, junior forward Amanda Radovich led Lansing in scoring with 22 points. Senior point guard Monique Richardson was the second-leading scorer with eight points. Seven other players chipped in between four and six points apiece, including freshman reserve Morgan Chiles, who scored six points in the fourth quarter to bolster the Lions' lead.
It was an all-around effort, indeed.
"It's good that we have a lot of players scoring," Radovich said. "Last year we didn't have that many players that could step it up, and this year we know everybody can come off the bench and everybody can play. Everyone that suits up can play."
Whether it was Chiles on Friday, freshman Katie Nietzke against Mill Valley or junior Rachel Darrow against Basehor-Linwood, it seems somebody always has stepped up when the Lions need it.
"It's really comforting," Richardson said. "We always feel confident when we go on the court knowing whoever comes in can pick up the game for whoever is going off."
It's important that the reserves be able to pick up the slack, especially given the way Andrews subs his players. Rather than taking out one or two players at a time, Andrews prefers to sub in waves, bringing in four or five fresh sets of legs at a time.
That substitution pattern can cripple team with little depth, but for Lansing it has been a strength - especially against Piper.
"We put five new people in, and there wasn't any let-off," Andrews said. "We still got people to look to score. We still got people to rebound. We've got a good athletic mix. The freshmen kids are playing well still, and it's just a real luxury.
"(Piper's players) were dragging. They were tired and they're about six deep, to be honest. Our depth hurt them, and we've got to take advantage of it."
While a deep bench has emerged as a strength for the Lions, Andrews said his squad's defense is its weakest point after six games. They've been solid defensively for about three quarters each game, but two or three lapses have kept LHS from putting its opponents away sooner, Andrews said.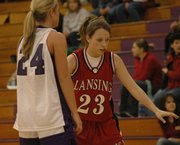 Lansing will try to improve on that before taking on Bonner Springs at 6 p.m. Friday at Lansing Intermediate School.
Bonner (2-4, 1-1) shoots a lot of three-pointers and plays a style similar to Piper.
"Bonner will shoot the three as much as (Piper) did, so at least we've seen that and we know we can fight through that," Andrews said, "but we've got to defend."