Lansing resident serves Lions Club on national level
On a recent cold and icy afternoon, Ernie Young Jr. had just returned from a holiday trip to Washington. Several schools had been closed, and area employees crossed their arms for warmth, wishing customers a safe trip home and themselves an early dismissal. Young, on the other hand, fully intended to attend the local Lions Club meeting in the evening, regardless of the weather - though the meeting was later canceled.
It's a typical attitude for the community-conscious Young, and the concept of service regardless of inconvenience isn't a new one for him.
Young was a career military man who served more than 20 years in the U.S. Army and retired from the service in 1980. His ambition didn't end there - while in the military, he received two master's degrees, one in personnel management from Central Michigan University and one in Business Administration from Webster University.
After he had finished with active service, Young put his degrees to work in a managerial position with AT&T. The job required nearly as much travel as the Army had, so after a few years Young began looking for a new opportunity. It came in the form of a field artillery officer civilian position at Fort Leavenworth in 1984, a position requiring work similar to the kind Young had done as an Army officer.
"I came back here to a slight reduction in pay, but more than made up for it after time. I was able to get up to a GS-15 (the highest civilian rank outside the Senior Executive Service) before I retired from the civil service," Young said.
His time in the civil service was also the beginning of a second career in community service. In November 1988, Young joined the Lansing Lions Club.
"It was something that gave me an opportunity to give back to the community," Young said. "I had wanted to do something like this for a long time, but I was a career soldier, and I moved so often that I never really got involved in the community."
Born in North Carolina, a graduate of an Indiana high school and sometime resident of Oklahoma, Korea, Vietnam, Germany and Houston, Young found steady community involvement gratifying.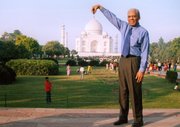 "I've had an interest most of my life," Young said of community service. "It's the opportunity that I didn't have when I was moving so much with the military. The Lions Club has been a tremendous reward for me. Every place I go, people are positive and upbeat, trying to do something to help their communities."
Young brought his own upbeat and positive attitude to the Lansing chapter, and it has served him well. He has held the offices of club president, district membership chairperson, district governor and multiple district council chairman, among others.
Young was elected to the national post of international director on July 9, 2004, at the Lions Club International convention in Detroit. He is one of 33 international directors and is the first from the Lansing Lions Club to be elected to the position.
Young said his appointment was "far beyond any dream" he'd had.
As an international director, Young is expected to attend Lions Club forums around the world as well as various smaller local events around the country. He speaks at conventions and serves as a Lions Club International official representative for smaller chapter events. It is a two-year appointment.
Young said his election had a lot to do with his high level of involvement during his Lions Club career.
"You get invited to do more and more things, and I wasn't smart enough to say no," Young laughed. "So I kept taking on more things all the time."
Already Young has traveled to Canada and India, working with Lions Clubs abroad. He returned Dec. 20 from the south of India, having spent about 10 days attending forums, visiting landmarks such as the Taj Mahal and sampling the spicy traditional cuisine.
Young was impressed with the work the Indian Lions Clubs were doing. He said the achievement that most stood out was a local club's alliance with an area hospital that resulted in local children with cleft palettes being operated on free of charge to the families.
"It was just amazing," Young said. "They took me and showed me some of the before and after pictures and also had me meet some of the people who were going through it - one child who had just completed surgery and was much improved, and another who was going into surgery. I had a chance to converse with the parents, and they said the results were remarkable."
Young also gave a talk on establishing a Leo Club, or youth-oriented Lions Club in the area. And he had the new experience of being greeted on three separate occasions by a marching band, convened in his honor.
While Young said he enjoyed the experience of India, he is glad to be back in Lansing, a city he likes for its quietness and safety.
"I like the peace and quiet, and the people are generally hospitable," Young said. "I have no areas that I would rather be right now."
The part of India that Young visited in December was not affected by the recent natural disasters in southeast Asia. Lions Club International is sending relief money to that area and has already approved $220,000 with more donations expected.