LHS

wrestlers begging to compete
Holiday break, weather have sidelined Lions for a month
Want to know how to tick off a Lansing High School wrestler?
Show him the weather forecast.
The Lions didn't mind the first three weeks of time off that were a result of the school's winter break, but the past week has been quite irritating for the Lions.
First, they planned to play host to Santa Fe Trail and Perry-Lecompton for a double-dual on Jan. 6, but an ice storm forced the meet to be postponed until Tuesday.
Again the Lions prepared for their first meet of the new year. Again they were denied a chance to compete as slick streets forced the SFT and Perry schools to close Tuesday.
With frigid temperatures and a chance of snow in the forecast, Lansing's 5:30 p.m. double-dual today at Piper could be in trouble too.
"I don't like it," sophomore Kyle Grape said of the weather. "I want to hurry up and wrestle."
If it seems like ages since the Lions last competed, that's because it has been. The varsity squad last competed Dec. 15 when it thrashed Bishop Ward and Basehor-Linwood in a double-dual at Ward.
Since then, it's been four long weeks in the wrestling room.
The Lions have felt ready to compete for quite some time now. They had circled the pairing with Trail, a traditional Class 4A wrestling powerhouse, as a measuring-stick match to gauge where they were upon returning from winter break.
"We feel like we can really put on a good competition with Santa Fe Trail, and as a coach, I'm really eager to see where we step up and where we shine," LHS coach Ron Averill said. "Santa Fe Trail has a quality team and it would've been a great opportunity for us to really use it as a springboard, win or lose, and be able to see how we can do and what adjustments we need to make.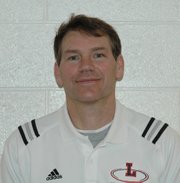 "We have a lot of tournaments coming our way, and it's really good to be able to have that kind of competition and preparation, but we'll just have to wait now and see how it goes."
Lansing tore through its December competition, earning second-place honors at the Spring Hill Tournament and placing fourth out of 24 teams at the Eudora Tournament of Champions. Numerous Lions headed into break with spiffy records, including Nick Flynn (11-1 at 112 pounds), Kyle Buehler (9-2 at 125), Sean Flynn (10-1 at 130), Stewart Jones (10-2 at 135), Grape (10-1 at 140) and Ryan Civils (9-3 at 189). Averill said he was eager for them to begin their January competition to see if they could pick up where they'd left off.
"I'm just anxious to get out there and start getting into competition again," he said. "We can practice day-in and day-out, and it's still not the same as getting in the game, stepping up to the competition, stepping onto the mat, shaking the hand and just getting after it with a new face with a new body. That's that other aspect that you cannot get in the practice room."
Averill praised his wrestlers for maintaining their focus during the stretch of postponed duals and said they continued to show up to practice and work hard.
Grape said the squad treated the postponements as business as usual and turned its focus to today's opponents - Piper and Christian Prep Academy.
"We're doing everything we can do right now," Grape said. "We're going to come in Thursday and dominate the two teams we're wrestling, and we're going to show everyone that even though we haven't wrestled in a month, it hasn't affected us."