New sheriff takes reins in county
There was once a time when Herb Nye and Dave Zoellner - the past and present Leavenworth County sheriffs - were so similar in rank that it was no big deal for Zoellner to tell his childhood friend to kindly "get your feet off my desk."
But, "when he became sheriff I couldn't do that anymore," Zoellner jokingly recalled Monday.
Zoellner, winner of the November sheriff's election, has once again earned the right to keep his desk hoof-free. A former undersheriff and 36-year department veteran, Zoellner was sworn into office Monday at the Leavenworth County Justice Center.
After reciting the oath of office, Zoellner addressed a crowd of spectators and incoming and outgoing county officials. Zoellner credited Nye, a friend since both were seventh-graders in Leavenworth, with helping him "accomplish my goal of becoming sheriff."
While giving due praise to Nye, the new sheriff also said he hoped to lead the department to new plateaus during the next four years.
"(The sheriff's department) is a good organization and I'd like, with (the help of fellow officers), to make it a great organization," Zoellner said.
At his farewell party Friday in Leavenworth, Nye said Zoellner was more than worthy of leading the county's law enforcement. "I think I'm turning it over to very capable hands," Nye said.
Zoellner's ascension to the department's lead post has been a long time coming. He began work as a deputy in 1968 and since then has worked in various capacities for the department, including stints in the jail, communications, patrol, investigations and administration.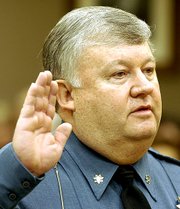 Since the August primary, it's been no secret that Zoellner would succeed Nye as sheriff. He defeated Democratic challenger Gene Tomrell in the primary and, because there was no Republican opposition, ran unopposed in the general election.
Despite a clear path to office, Zoellner, out of respect for Nye, asked that people refrain from calling him "sheriff" until after the swearing in ceremony Jan. 10. County Attorney Frank Kohl joked about finally being able to call Zoellner sheriff without getting Zoellner's standard "not until Jan. 10" reply.