Seven county officials sworn into offfice
For four Leavenworth County officials, it wasn't difficult to remember the oath of office Judge David King asked them to repeat on Monday. It was the same vow they made four years ago.
During a morning ceremony at the Leavenworth County Courthouse, King swore in a total of seven county officials.
Officials returning for new four-year terms are:
¢ County Attorney Frank Kohl. Kohl, who has served as the county's lead prosecutor for the past 23 years, thanked voters for re-electing him. He said his office would continue to prosecute offenders with the same zeal as in the past.
¢ County Clerk Linda Sheer. Sheer, who's served as county clerk for the last 15 years and as a county employee for the last 25 years, also thanked Leavenworth County voters for helping her office through what could have been a difficult general election in 2004.
¢ Register of Deeds Stacy Driscoll. Driscoll has served for the past five years. She told the crowd Monday that she was pleased to work with a dedicated county government staff.
¢ County Treasurer Janice Young. Young has handled the county's finances for the past six years. She thanked voters for trusting her with the position and said she would continue to handle the job in the same professional manner as the past.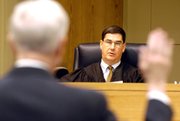 "I hope I can continue to do a good job for the citizens : for the voters," Young said.
New officials sworn in Monday were County Sheriff Dave Zoellner and County Commissioners Clyde Graeber and Dean Oroke.