Every time we go to a home football game or a track meet, we are in a field named after an outstanding person named Frank Graham.
Frank R. Graham was born May 28, 1909, in Lansing. He attended grades 1 through 12 in the Lansing schools and graduated from high school in 1928. He received his Bachelor of Science degree in 1932 from Kansas State Teachers College, Pittsburg.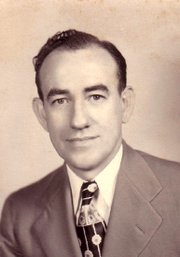 He then returned to the community joining the high school faculty in 1933 as a social science and dramatics teacher. Frank's social science students won many honors in state competitions.
His first love was directing school plays, especially the one-act plays. His technical lighting and stage construction was outstanding.
The high school was then where the present Activity Center is, and the stage and gym were a floor below the present library. The gym as we know it now was not there, but added in the early 1950s.
In 1943 Frank entered the Army and served his country as an instructor at Fort Leavenworth and Fort Riley, where he taught communication techniques to special Army soldiers, until his discharge in 1945.
When I was a senior, Frank returned to Lansing High School as a classroom teacher and continued his former position until he received his MS degree at Pittsburg in 1955. At that time he became principal and held this position until 1966 when he was appointed the first superintendent of USD 469. He served in this position until his death Nov. 13, 1971.
Frank was a member of the Lansing Methodist Church, a past master of Nine Mile Masonic Lodge, past president of the Lansing Lions Club, and a member of the Lansing Education Association, Kansas branch of National Education Association, Kansas Association of School Administrators, and a life member of the NEA.
Frank was a multitalented person and involved in all school activities. I remember how he recorded the play by play basketball games in 1949 and 1950 with a wire recorder. But that is another story.
¢ A special note of thanks to Frances Graham Young for much of the above information.