LHS

wrestling sweeps double-dual at Piper
Kansas City, Kan. — It had been a month since Lansing High's wrestling team last competed, but when the Lions returned to the mat Thursday night at Piper they left no doubt the long layoff hadn't slowed them down.
LHS thrashed Piper, 75-6, and then waxed Christian Prep Academy, 66-12, in a pair of dual victories. With the wins, the Lions improved to 4-0 on the season in duals.
"We were very hungry," junior Ryan Civils said. "We came into practice ready to go, ready to make weight and get up for Perry and Santa Fe, but then they canceled, so we were ready for some blood out here."
Lansing drew plenty of blood as Chance Thackston (103 pounds), Nick Flynn (112), Kyle Buehler (125/130), Aaron Sorrell (125/130), Stewart Jones (135), Kyle Grape (140), Corey Anderson (145), Dennis Kessler (152), Casey Caton (160), Civils (189), Logan Ryan (215) and Brett Wessel (275) all picked up two victories apiece. Brad Terron added a victory by pin at 171 pounds against Piper.
Another fact of note was that 21st-year coach Ron Averill inched ever closer to earning his 200th career dual victory. Averill currently has 198 wins, but likely will reach the 200 plateau next week at home. The Lions play host to Perry-Lecompton and Santa Fe Trail on Tuesday in a double-dual that was originally supposed to happen last week before inclement weather forced it to be postponed. Then Lansing will play host to Silver Lake and Hiawatha on Jan. 20 for another double-dual.
Averill said he isn't focusing on setting records because, he said, his team is talented enough that he knows it will happen soon enough. Instead, he said his focus remains on preparing his wrestlers for their matches.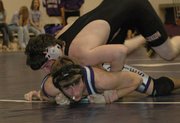 "I'm to the point now where I've thought about it and I realize it's going to come, and it's just going to be kind of a mile-marker, a stepping stone, but it's just going to be business as usual," he said. "With the team we have I don't have any doubts that that time is going to come. We've just got to go ahead and just keep on marching through and try to keep improving through the year."
Averill said his athletes remained focused during the month without competition. Now, he said, they're ready to head through a gauntlet of competition in the next 10 days.
"The guys have been hungry to finally get back on the mat and actually do some of this stuff. We're going to be going pretty strong for this next week and a half," he said. "We wrestle Saturday, Tuesday, Thursday, Thursday and then Saturday, so hopefully all this practice is going to pay off because we're not going to get much practicing in here between the meets."