Goodlin, Bristow crowned at Winter Royalty
LHS

boys, girls drop basketball games to Bonner Springs
LHS seniors Emily Goodlin and Chris Bristow were crowned queen and king Friday night at the Winter Royalty pep rally.
Goodlin and seniors Jessica Hauver and Kendra Sickinger were the queen nominees, while Bristow and fellow seniors Chris Nelson and Andrew Phillips were the king nominees.
The coronation took place prior to the Lions homecoming basketball games against Bonner Springs.
Bonner Springs 52, Lansing Girls 51
After savoring the constant high of a four-game winning streak, the Lansing High girls' basketball team's sky-high confidence came crashing down Friday night at the hand of Bonner Springs freshman Kelsey Stanbrough.
Stanbrough drained a three-pointer from the right side of the key as time expired, handing Lansing a 52-51 defeat at the Lansing Intermediate School gymnasium.
Photo Gallery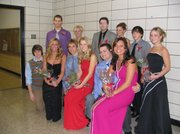 Winter Royalty: A night on the town
Lansing High School crowned Chris Bristow and Emily Goodlin as king and queen of the 2005 Winter Royalty on Friday Jan. 14 at Lansing Intermediate School. Because of the damaged gymnasium floor at LHS, the dance, "A night on the town," also took place at LIS.
Moments before Stanbrough's buzzer-beater, LHS junior Rachel Darrow nailed a 15-footer on the left baseline to give the Lions a two-point lead with 14 seconds left that appeared to have put the game away.
"She nails a three right in my eye," Darrow said. "We knew it was coming. We just didn't want it to come then. We knew they were a three-point shooting team. We did not want that three-pointer to come at the end of the game.
"It was a good shot. I'll give it to her."
Still, Lansing had plenty of chances to put the game away early, but it had 26 turnovers and missed 14 of its 27 free throw attempts.
"We've been preached to forever that free throws win ball games, and that's what it came down to was those free throws that would've made the difference," Darrow said.
Darrow said losing the game could benefit the Lions in the long run because it forces them to pay closer attention to their mistakes and improve. Had they won the game, she said, they might not have learned their lesson.
"This loss is going to help us more as a team than I think a victory might have just because we need to hate this feeling," she said. "We need to hate losing more than we love to win. That's all it is. You hate to lose."
LHS (4-3 overall, 3-1 Kaw Valley League) turned the ball over nine times in the first quarter as Bonner Springs took an early lead. BSHS led 15-14 early in the second quarter, but Lansing went on a 12-6 run to close the half behind eight points by junior forward Amanda Radovich. The Lions led 26-21 at halftime.
Darrow and Radovich nailed back-to-back buckets to open the third quarter and pressed Lansing's lead to nine points. The Lions turned the ball over six times in the quarter however, and missed all four of their free throw attempts, allowing the Bravettes to pull within three by the end of the quarter.
Another layup by Darrow and a lay-in by Elizabeth Cristiano pushed the lead back to seven, but the Lions continued to miss free throws and turn the ball over, allowing Bonner to hang around.
The Bravettes tied the game at 43-all with 3:19 left, but senior point guard Monique Richardson put LHS ahead with a steal and layup. Darrow then missed a pair of free throws before senior Emily Goodlin sank two from the line, moving the lead back to four.
Lansing missed its last four free throws, while Bonner tied the game at 49-all with 59 seconds left. That set up Darrow's jumper before Stanbrough drilled the game-winner with a hand in her face.
Radovich led all scorers with 19 points and Darrow added 15 for the Lions. Goodlin had five points and 15 rebounds for LHS.
The LHS girls next play at 6 p.m. Monday against Pleasant Ridge at the Tonganoxie Invitational Tournament.
Bonner Springs 67, Lansing Boys 56
The Lansing High boys' struggles continued Friday night as they dropped a 67-56 loss at home to Bonner Springs.
The Lions opened the game with a 6-0 run but then went ice cold from the field the rest of the game. Bonner closed the quarter on a 16-3 run. The Braves led by as many as 11 points in the second quarter before taking a 36-26 lead into halftime. At that point, Bonner players Toine Barber and Christian McDonald had 14 and 11 points apiece.
The second half was evenly contested, but the damage already had been done. Lansing pulled within 42-36 with 2:14 left in the third quarter but didn't get any closer.
Barber finished with a game-high 22 points for Bonner and McDonald added 15. Chris Wagner led Lansing with 16 points while Cody Mohan, Jeff Slater and David Kern scored 11 points apiece.
Shooting had been Lansing's primary problem during its first six games, but against Bonner the biggest thorn was ball-handling. The Lions turned the ball over 16 times, but even when they retained possession they oftentimes were sloppy with their passing.
"We didn't handle the ball real well on the perimeter," LHS coach Don Allen said. "Obviously we had too many turnovers. In the first half I think it really hurt us and kind of put us in a hole. Then in the second half when we needed possessions, we didn't get 'em. There were times we didn't take care of the basketball, tried to do too many things with it instead of what we need to do with it."
Fortunately for the Lions, there were some bright spots to take from the loss. Wagner has stepped up offensively in the past week and put together his second straight solid effort from the field. Kern also asserted himself in the post and was strong on the boards. Mohan also showed more confidence in his shot as he nailed a few difficult shots and buried a late three-pointer that kept Lansing's hopes of a rally alive.
Sophomore forward Jeff Jackson also gave another solid effort and had a strong put-back basket and a few rebounds.
The Lions will have little time to dwell on the loss. The play at 7:30 p.m. Monday against Pleasant Ridge at the Tonganoxie Invitational Tournament.