Saint John Hospital to undergo $60 million expansion
Leavenworth — Officials with Saint John Hospital in Leavenworth announced plans Wednesday for a $60 million facility to replace the existing hospital.
The new hospital will be built on the existing campus at 3500 S. Fourth St. Greg Madsen, Saint John administrator, said the new facility could be ready by 2008.
"We think it's very good news for Leavenworth and Lansing," he said.
The hospital, the first in Kansas, will mark its 141st anniversary this year.
"We have very deep roots and have been here a long time," Madsen said. "This is a statement of our commitment to the community and the future."
The new hospital will accommodate up to 150 beds, about twice as many as the 76 licensed beds it now operates.
"We run at pretty much capacity," Madsen said, noting the hospital has had to turn away patients or delay admissions at times in the past. Staffing at the hospital will grow from the current 400 employees as the expansion requires.
Madsen said hospital officials had considered expansion for several years.
"We feel like now is the time, and we have the reserves to afford it," he said.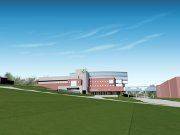 A conceptual drawing of the new building was also released, but officials said the planning and design process still was not yet under way. A professional design planner, working in tandem with members of the hospital administrative and medical staffs and community members, will be charged with coming up with the final design. The design phase could take up to a year and a half.
"Our ultimate goal is to provide a facility that serves the community and surrounding region and provides a state-of-the-art environment for our physicians and employees," Madsen said.
He was reticent to detail additional services or equipment the new building would feature, but he noted it would have the latest technology.
Preliminary plans propose the new hospital will most likely be linked to the Saint John Medical Plaza.
The existing hospital will be repurposed for another medical use by Saint John.
"We'll explore other options," he said. "It could be a nursing home, a psychiatric ward, a combination of both or something completely different."
Jim Paquette, Providence Healthcare and Saint John CEO, said the new replacement facility represents the first of several announcements that will be unveiled over the next six months regarding investment and expansion of services in Leavenworth, Wyandotte and Northern Johnson County.
Saint John is affiliated with Providence Medical Center, Kansas City, Kan., and Sisters of Charity of Leavenworth Health System in Lenexa.