Event honors King's memory
The Rev. Martin Luther King Jr.'s vision came to life this past weekend at a Leavenworth church event that celebrated the life of the slain civil rights leader, an event organizer said.
"We brought together mayors and ministers, Catholics and protestants," said Joyce Williams, who coordinated the tribute Sunday at Bethel African Methodist Episcopal Church, 412 Kiowa St. in Leavenworth. "By bringing together people from all demographics from the Leavenworth and Lansing area, we were living his dream."
About 150 people were in attendance for the medley of musical performances, interpretive dance and speeches.
Many community leaders, including Lansing Mayor Kenneth Bernard and Leavenworth Mayor Brian Grittmann, made short speeches about King. Bernard praised King's commitment to his cause.
"He taught the world how to achieve goals unviolently," Bernard said. "He was never deterred from his goals.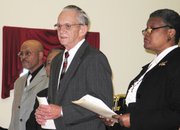 "If a man hasn't found something worth dying for, he hasn't lived."
Other officials and community members participated in the musical parts of the celebration. Leavenworth City Manager Gary Ortiz sang "America the Beautiful" and First Christian Church member Tom Sack sang "Let There be Peace on Earth." The Bethel choir entered the church holding candles and singing "Battle Hymn of the Republic." Later in the event, the congregation joined to sing "Couldn't Hear Nobody Pray" and the Negro anthem "Lift Every Voice and Sing."
Williams said she was especially impressed with the rainbow of people involved.
"It's not just a black day, it's a tribute given to a man who raised social consciousness of all people in the world," Williams said. "We hope to continue the holistic approach to his day including all people."
She said involving everyone, especially youths, is important to honoring King.
"It is important for children to understand history. If they don't understand history they won't understand their future," she said.
In the future, Williams said it would be nice to see tributes to King move from church to church in the Leavenworth and Lansing areas.