GUIDING
LIGHT
Long-time wrestling coach nears 200th career win
When Ron Averill thinks back to his first year as Lansing High School's wrestling coach, he recalls it as though it were yesterday.
"When I started back in 1982-83," Averill said, "we had only 14 or 15 kids on the team. We won one dual the entire year, and that was OK.
"In everybody's mind that was OK - except for mine. I couldn't see that as acceptable."
Averill has spent the past 21 years proving that LHS wrestlers could do better.
The Lions were 1-14 during that first season, and 4-9 the following year, but since then have posted 18 winning seasons in a row. So far, this year's Lions are 5-1 in duals. They've had so much success under Averill's guidance that he is about to join just a handful of Kansas coaches in the 200-win club.
Averill owns a career record of 199 wins, 69 losses and one tie for a winning percentage of almost 75 percent, despite taking a two-year break from coaching in 2000 and 2001. Numbers like that are why Lansing is mentioned among the state's most dominating wrestling programs year-in and year-out.
EARLY YEARS
Averill's love of wrestling extends back to when he was in high school. He came out for the wrestling team as a senior at Wellsville High School when the school finally started its wrestling program.
"I had some health problems and some knee problems so I couldn't do sports my junior year, but then my senior year I was able to come out late in the season, but I missed qualifying (for state)," Averill said. "I was, like, fifth at regionals, missed it by one place, I was 14-7 : 12 pins. I was a good first-year wrestler."
He was away from the sport during college but was happy to return when Lansing High needed a wrestling coach.
Averill had his hands full in the early days. For starters, he had no head coaching experience and still was relatively new to the sport. Second, he was inheriting a small program with no tradition.
"It's not like it was an overnight turnaround. It took us two or three years," he said.
BUILDING TRADITION
Although Averill's time as an athlete was minimal, he learned from his experience how to relate with his athletes and drive them to be champions.
"Regardless of what the sport was, I was a hard worker. I competed hard," Averill said. "But I didn't do it aggressively. I learned there's a huge difference between getting out there and trying real hard, and doing that aggressively. In realizing that, I learned there's no way you can expect that in competition if you never reach that point in practice, so our desire is to really push those kids and reach that point in practice so they're prepared to flip that switch in competition."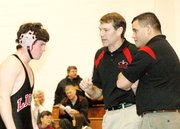 That's the way Averill and his staff have run practices for more than two decades.
On any given day, an Averill practice will consist of constant drilling on moves, followed by some scrimmaging and then about 20 minutes of running to improve his athletes' endurance.
"We do continuous repetition of moves," said Scott Terron, an LHS assistant coach who wrestled for Averill from 1988-91. "It's about the quality of moves. Not just practice makes perfect, but perfect practice will make perfect.
"Our kids are giving 100 percent in the wrestling room every day. I can give you that."
Sure, Lansing's practices are tough, but numerous athletes said the grueling workouts were worth the sweat and sacrifice because they knew their coaches, especially Averill, could help them become winners.
"He's a big contributing factor to me," said junior Stewart Jones, a 2004 state qualifier who owns a 17-2 record at 135 pounds this year. "His words of encouragement and the way he pushes us are top notch. It's not his goal for him to win. It's his goal to make us the best that we can be. I owe everything I've got to him."
Added junior Dennis Kessler: "Coach does everything he can for us. He practices with us, and he doesn't expect us to do anything that he wouldn't do himself."
IT'S ABOUT THE KIDS
Through all the success Averill has found as a coach, he always makes sure his focus stays on his athletes. It's never about him. It can't be, he said.
"I've learned through the years is when I start looking for wins on a personal level, when I want them to win for me, I have my priorities wrong," he said. "Win or lose, this is all about doing it for them as a team. As long as we can keep focused on the team, we're going to have success."
Averill wants that success for every one of his wrestlers, from the new kid on junior varsity to his most experienced veteran.
"I realize as a wrestler, the last thing you want to do is lose out on that mat," Averill said. "So my goal as a coach is to do everything I can to help that individual perform."
Averill has left the impression on every one of his wrestlers that hard work can pay off, whether it's in the classroom or on the wrestling mat, Terron said. That's why he returned to Lansing to coach with Averill.
"I want to win that man a state championship," Terron said. "I wrestled in college and I came back. I got the call and said 'I'd love to coach for you, to come back to my roots and do what I need to do.' More than anything I would like to see him win a state title."
At just 45 years of age and with 199 wins to his credit, it's quite possible Averill may one day win that championship.
After all, he said, he doesn't plan on going away soon.
"It's not like my goal was to get to 200 and then hang it up," Averill said. "Hopefully that's just going to be a landmark. I feel good about what we've done in the past and what we've gone through to get here, and I feel good about where we're going."