LHS

boys still stinging from fourth straight loss
Tonganoxie — The scowl on Cody Mohan's face Monday night as he walked off the court following Lansing High's 58-53 loss to Pleasant Ridge summed up the way the boys' basketball team has been feeling these days.
The Lions have been losing a lot lately, and it hurts.
After opening the season talking about winning a Kaw Valley League championship, they've slumped to a 2-6 record and are mired in a four-game losing skid.
After falling to Pleasant Ridge in the opening round of the Tonganoxie Invitational Tournament, Lansing will face an upstart squad from Silver Lake at 4:30 p.m. today. Either Eudora or Tonganoxie looms Saturday. Then it's back to KVL action next week.
If the Lions thought things were tough already, the road is only going to get tougher. That said, Mohan said the final two games of the Tongie Tournament should tell plenty about how the rest of this season will go. Not necessarily in terms of wins or losses, but in regards to how they play.
Mohan admitted, however, that if the Lions don't pick up a win soon they're going to have a tough time the rest of the season.
"The last two games are going to be important for how we play the rest of the season," Mohan said. "If we come out strong and keep playing, we should get the win if we play like we know we can. This tournament is going to set where we go. We can't come out of here 0-3 and expect to come back into the regular season and blow it out."
The Lions were kicking themselves following the loss to Pleasant Ridge because it was a game they knew they let slip away. They were ahead 28-14 in the first half and led by as many as 13 points in the third quarter before they squandered the lead with turnovers and a five-minute scoring drought.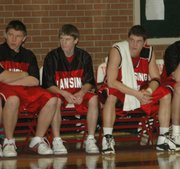 "P-Ridge took it from us," LHS coach Don Allen said. "I thought down the stretch they made better decisions, got things done and executed better than we did on both ends of the floor. In a close ballgame, it's going to come down to a couple possessions, and obviously they did a better job with their possessions than we did ours."
Perhaps a bit of Lansing's struggles Monday could be attributed to overconfidence. Despite their disappointing record, many people thought the Lions were the superior team and shouldn't have had much trouble disposing of the Rams.
"Maybe we thought that too," Allen said. "That may have been quite a bit of the problem. Did we maybe look past them a little bit? Yeah, there's a chance that could have happened, but they just outplayed us."
LHS has plenty to figure out this weekend if it plans to pick up a few victories. Mohan said a lot could change if the Lions would start playing together rather than trying to force things in their offense.
"It's always tough losing," said Mohan, who scored a career-high 21 points Monday night. "We know we should be winning. We're just not playing together. We're not playing as a team.
"I think (a win) would help, but it's not that big of a deal. We need to step up our intensity in practice and everywhere. We need to be able to do it for four quarters."