Looking to break the chain
Inmates seek ways to end violence behind prison walls
James Shehan, 40, knows violence. When he was 22 years old, he was sent to prison for murder.
He's been locked up ever since.
"This friend of mine needed some money and I said I'd help him steal some stuff," Shehan said. "The place was supposed to be empty, but it wasn't. The woman who lived there surprised us. She was elderly."
The woman, badly beaten by the intruders, died from blood loss.
With good behavior, Shehan is likely to be released in four years. By then, he'll have spent half his life behind bars.
He says that's enough. He's more than ready to turn his life around.
But that's not easy in prison. For help, he turned to STOP Violence, an inmate-run support group that helps prisoners pick apart the personal problems that got them where they are and exposes them to the possibilities and benefits of life without violence.
"What I did was wrong, and I have taken full responsibility for what I did," Shehan said. "I don't blame anybody else, just me. And now, the only thing I can do is make something positive out the rest of my life. I owe that to my victim, to myself and to my family."
Shehan helped lay the groundwork for a two-hour, all-inmate summit Wednesday. It was the first of its kind in the Kansas correctional system. It was held in the prison's 250-seat auditorium after STOP Violence members - there are about 30 of them - circulated fliers and otherwise spread the word within the walls.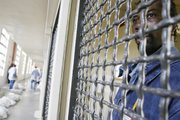 "Our future is up to us," said inmate Rock Allmon, addressing the 60 inmates in the auditorium, By the end, more than 90 inmates had attended the session.
The summit's aim was to reduce violence within Lansing Correctional Facility, the largest state prison with almost 2,500 inmates. Lansing also is the state's oldest prison. Its construction was interrupted by the Civil War.
"This is something that's never been done before," inmate Henry Cordero, who presides over the weekly STOP Violence meetings, said of the summit.
"What we're saying is that whether we want to be here or not, we are part of a community here," Cordero said. "And if we can deal with our differences in a nonviolent manner behind the walls, then we'll have a lot better shot at doing it later on outside the walls."
According to Kansas Department of Corrections, five incidents involving inmate-on-inmate injuries and 22 involving non-injury assaults were reported last year at Lansing Correctional Facility.
Also, 17 incidents involving inmates assaulting and injuring staff were reported; 53 non-injury assaults on staff, too, were reported.
Statewide, 292 incidents of inmate-on-inmates assaults and 290 inmate-on-staff assaults were reported last year. Outside of Lansing, the state has prisons in Hutchinson, El Dorado, Topeka, Winfield, Ellsworth and Norton, and a criminal unit attached to Larned State Hospital.
The violence at Lansing is not out of line for a medium- and maximum-security prison housing almost 2,500 inmates, said Brett Peterson, a spokesman for the prison.
"Certainly, there is violence here, and I'm not going to pretend that every incident shows up in the reports," Peterson said. "But it would be overdramatizing to say we see a lot of violent acts."
Most inmates, he said, don't want to risk losing their jobs at one of the 14 private manufacturing companies attached to the prison.
Inmates "are making money - they're sending it to their families, they're paying their child support, they're paying restitution," Peterson said. "For them, it's a very big opportunity they don't want to lose."
Currently, 734 inmates work for one of the companies at Lansing Correctional Facility.
Also, Peterson said, Safe Harbor, a nonprofit animal rescue and adoption program that uses inmates to train and socialize dogs, has helped ease tensions.
"We have a lot of dogs in our living units," Peterson said, "and, again, that's not something (inmates) want to lose."
Kansas Secretary of Corrections Roger Werholtz said the STOP Violence program was encouraged, though officials don't consider violence a major problem in the state's prisons.
"When you recognize the proportion of offenders in prison is highly skewed toward individuals who've committed serious and violent crime and who in the past have resorted to violence as their primary method for resolving conflict : given that, the levels of violence that we see in the facilities are within the realm of being manageable," Werholtz said. "We'd like to reduce it (violence) altogether, but it's unrealistic to think it will vanish completely."
Founded in the early 1980s, STOP Violence has nine chapters operating in seven of the eight Kansas prisons. Aside from their personal growth, inmates are not rewarded for attending STOP Violence session.
"We started the first chapter in the old East Lansing facility back when it was co-ed," said STOP Violence founder SuEllen Fried. "Since then, as inmates were transferred to other facilities and as word spread, the other chapters got started."
At Lansing Correctional Facility, about 30 inmates attend STOP Violence meetings. Most have murdered, raped or robbed.
"Each of them is fully cognizant of what they've done, and they've spent a lot of time reflecting on it," said Greg Poth, a Kansas City, Kan., banker and a STOP Violence volunteer for the past 2.5 years. "They don't ever want to be in a position of harming another human being ever again."
None of the inmates he works with, he said, have forgotten their victims or the suffering they've caused their victims' families.
"To be in STOP Violence, one of the things you have to do is called an 'ice breaker.' That's where you get up in front of group and talk about yourself and what you did," said Ron Giancarlo of Overland Park, also a volunteer from outside the walls. "It gets very intense. These guys are genuine."
Poth said he firmly believed in second chances.
"Unfortunately, we live in a society where because you're an inmate, you're prejudged. You're automatically a bad person," he said. "I understand all that, but I also know that without an opportunity to succeed, a lot of these guys will end up back in jail, and that's bad for everybody.
"At some point, you've got to believe in people and their ability to change for the better," Poth said. "If you're not there - and there are a lot of people who aren't - then you don't belong in STOP Violence."