Room to improve, but Lions whip Rams
Tonganoxie — The Lansing High girls' basketball team learned plenty about itself in the past week.
The Lions (5-3 overall, 3-1 Kaw Valley League) discovered they could shake off a loss just fine. LHS bounced back from a 52-51 loss Friday night to Bonner Springs on a last-second three-pointer and throttled Pleasant Ridge, 64-49, Monday night in the first round of the Tonganoxie Invitational Tournament.
"It was good to get in here and get a win to start off the tournament because Bonner : that was a heartbreaking loss for us," junior Amanda Radovich said. "We just needed to come back and prove we can still win. Our goal is to win this tournament, and we've got to start with one. This was a good win for us."
They also found out they have some serious work to do on their free throws. They made just 13 of 27 shots from the charity stripe in the loss to Bonner. Then they made only eight of 26 in the win against Pleasant Ridge.
"We're going to have to start working on them more in practice," said Radovich, who scored a game-high 19 points against Pleasant Ridge. "Normally we're not missing this many free throws. I don't know what that's about."
LHS coach Keith Andrews said his players didn't have any technical problems with their free-throw shooting, other than that the ball wasn't going through the hoop.
"All of them have pretty good form," he said. "It's just a matter of getting one to fall."
"We're changing how we're how we're going to do free throws in practice. We're going to have a little more focus on that. It's 90 percent mental. They've got to bear down and do it."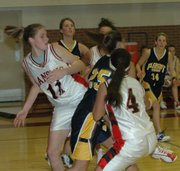 Had the Lions made even 50 percent of their free throws, they would have defeated Bonner Springs and won by a much larger margin against Pleasant Ridge.
"It could've been a 75-point game if we'd make our free throws," Andrews said. "I told our kids, when you get somebody on the ropes, if you make your free throws it stretches it to 18, 25 or 30, and they give up."
As frustrated as Andrews has been with his team's free-throw shooting, he said the Lions had more work to do on defense. They've allowed too many easy buckets in the paint, he said, and too many uncontested shots.
As a result of another substandard defensive performance Monday - the Lions' goal was to hold Pleasant Ridge to 34 or fewer points - there were consequences.
Andrews threatened to make his players run stairs or wind sprints if the defensive goal wasn't met. He kept his promise.
"If anybody was watching us, they'll know to go right to the post. Defensively we didn't do real well there," Andrews said.
Still, he was quick to point out that his squad's perimeter defense was solid. Andrews noted the play of junior Rachel Darrow (five steals) and senior Emily Goodlin (17 rebounds) as two of the players he thought stood out. Junior Nichole Twitchell chipped in seven points and six steals in the win, and senior Kendra Sickinger sparkled offensively as she scored a season-high nine points against the Rams.
The Lions play next at 3 p.m. Friday against Silver Lake in the semifinals of the Tonganoxie Invitational.