The sanctuary inside the First Christian Church was packed Monday with more than 100 people who honored one of America's best known Civil Rights leaders and the message he stood for.
It has been 37 years since Martin Luther King was assassinated on the balcony of a Memphis hotel room, but those who celebrated the anniversary of his birth Monday gave testament to the importance of his message and need for it to live on.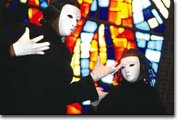 Following an invocation and a singspiration performance that Regina Stillman involved the crowd in, Edwardsville Mayor Stephanie Eickhoff began the event by welcoming the assembled crowd. Residents of Bonner Springs, Basehor, Shawnee, Edwardsville and Kansas City, Kan., joined a crowd of dignitaries.
During her opening remarks Eickhoff said her 6-year-old son's summation of King's legacy helped place the significance of the day's celebration in context.
"Everybody knows," she said, echoing Arthur Eickhoff's words. "He showed people the way and set them free."
This year's celebration marked the 17th time residents from the Bonner Springs and Edwardsville areas officially celebrated King's dream.
A common theme for the event was the importance of keeping King's dream alive and not just recognizing it during a single day or month. Lewis Diuguid, a columnist and editor with The Kansas City Star, delivered a keynote address that focused on applying King's dream to all members of society.
He spoke of the importance of embracing and celebrating people's differences and treating people the way they would prefer to be treated. Although King's message is widely recognized, Diuguid said, society still has a long way to go until King's vision is fully realized. Diuguid spoke of King's dream in terms of a metaphor that incorporated a dream train and miles of track.
"The train has to cover more track," he said. "But the good news is, the train has not derailed 37 years after Dr. King's death."