Trumpet player tunes up for state festival
There's an old trumpet-player stereotype that gets passed around musical ensembles - trumpet players are bossy. They're arrogant. They're prima donnas about their solo time. In fact, there's a trumpet joke about this general stereotype:
How many trumpet players does it take to change a light bulb?
Five. One to handle the bulb and four to tell him how much better they could have done it.
But Micah White is none of those things.
Many trumpet players make good leaders, in part because their pieces are decisive and in part because strong personalities are often attracted to the instrument.
In that sense, White is a good choice for her position as first-chair trumpet in the Lansing High School band. She's a leader.
She also acknowledged the stereotype with a smile.
"Trumpet players are snobby, flutes are cliquey," she nodded and shrugged.
Leaders don't get hung up over that kind of thing.
The LHS senior was born in Fort Hood, Texas, and began playing the trumpet in sixth grade.
With a father in the military, White has lived in Texas, Virginia, Germany and Kansas, though she said her favorite place of all is Lansing.
"It's a small community and it's really friendly and I just like it," White said. "It's a great atmosphere to be in in high school."
The small-town atmosphere hasn't stopped White from pursuing larger dreams, though. She recently was chosen to participate in the weekend-long State Festival program. White will perform as the second-chair trumpet player in the orchestra group.
"If you look at the numbers, I'm, like, the third-best trumpet player in the state," she said. She is a little nervous about performing in the orchestral group because to this point she's only played as part of a band, jazz band or brass ensemble.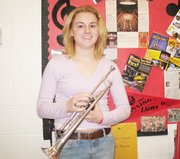 "It's a new experience," she said of her upcoming orchestral debut. "You have to transpose sometimes while you're playing. I've transposed before in church but this should be different : and scary."
To be chosen for State Festival performance, a player first has to qualify at the district level. White has made district level four years in a row.
"District band is one day, one performance," White explained. "You have a clinician who works with you all day, and then you have a performance."
At the state level the event encompasses a weekend, this year Feb. 24-27. The event coincides with the Kansas Music Educators' Association convention. KMEA sponsors the weekend activities, which take place in Wichita.
White and one other student, Jerry Gatson, a tenor singer, made it from Lansing to the state level.
Music is important to White, who said she enjoyed the trumpet because "it's got a gorgeous sound when you play it right. And it's just a lot of fun to play. You have more opportunities to play different kinds of music. It's a very versatile instrument."
Though she loves music, White said her favorite part of school is her time with the Leadership Council and leadership class.
"I'm always looking to constantly improve myself," White said. "I can't stand not doing anything. I always have to be involved in something and trying to improve things around me."
White's position on the council serves as both senior class president and president of the Leadership Council. The responsibility doesn't overwhelm her, though. In fact, she's considering a future in politics.
White already attends school board and site council meetings regularly ("It's hard to represent the student body if you don't know what's going on," she said), is the vice president of the LHS National Honors Society and a member of both the Kayette cabinet and Spanish Honor Society.
She describes herself as passionate, compassionate and patriotic, a trait that contributes to her desire for political involvement and involvement in general. White plans to run for leadership positions in college - she's narrowed it down to Creighton University in Omaha, Neb., or Kansas State - and plans to focus on business administration.
If White doesn't leap into politics immediately upon graduating, she has plenty of ideas for filling the time between.
"My dad mentioned going into the FBI," White said. "I've also thought about working at the Denver branch of the Federal Reserve Bank."
But she's also interested in starting a family and living in a small town like Lansing.
"I like it here a lot, and I think I can't really stay in the city," White said. "I always need to be communicating with people. I need to say 'hi' and have them say 'hi' back."