Athletic director hits a home run
Several years ago, before Joe Keeler was a household name in Basehor, the Bobcats' current athletic director stepped up and made a promise to then-Basehor-Linwood High School principal Don Swartz.
"As we went through the interview process when I was hiring assistant principals, Joe said something to me that essentially got him the job," Swartz said. "He said, 'I can keep people out of your office. You'll never have to re-handle things after they come through me.'"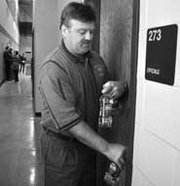 Eleven years later, Keeler is keeping that promise. Only these days it's in the world of high school sports where Keeler is making life easier for Swartz, now the executive director of business and facilities for the Basehor-Linwood School District.
From balancing athletic budgets and handling concerned parents, to hiring coaches or wearing green and gold on game days, Keeler has become a jack-of-all-trades at BLHS.
But as with any great leader, there is often one element that defines them. For Keeler that defining factor is known as tournament week.
Every January for the past five years, Keeler and his willing-and-able staff at BLHS have transformed the Bobcats' gymnasium into a hotbed for high school tournament activity.
Beginning with the Bobcat Classic, a 25-team, two-day wrestling extravaganza that attracts teams from all across the state, as well as Iowa, Keeler and crew put on a wrestling showcase that has become widely known as one of the toughest tournaments in the state.
"It's top notch," said Blue Valley wrestling coach Chris Paisley. "Joe does a great job with it. The hospitality is outstanding. They really take care of the kids, the coaches and everybody, and that's a tournament that's really made for the wrestlers. I know he wanted to make it a first-rate tournament, and he sure has."
After resting for one day, Keeler jumps back into action on Monday with opening round action at the Bobcat Invitational, a six-day, eight-team boys and girls basketball tournament that is also becoming well known throughout the area.
The idea for such magnificent tournaments dates back to the mid-90s, and perhaps earlier. Before arriving at BLHS, Keeler offered his helping hand at such tournaments as the Grand State wrestling tourney in Abilene and several smaller-scale events at Turner High School.
As he helped with those events, Keeler envisioned a day when he could run his own. That day came a step closer to reality when the Basehor-Linwood School District passed a bond issue in November of 1997 that called for a dramatic upgrade of the district's athletic facilities.
"We were never able to host anything before," Swartz said. "But when that bond issue passed it opened a lot of doors for us."
Two years before the doors actually opened, Keeler began planning his tournaments.
"First you have to recruit the teams and sell your tournaments," Keeler said. "But then you have to make sure you follow through. The vision I always had was to create a tournament with top-flight competition, great hospitality and the ability to provide great exposure for our community and our kids."
Word on the street says Keeler hit a home run in all three areas.
"I think Joe deserves basically all of the credit for our tournaments," Swartz said. "He had an early vision of really having a marquee tournament and I think that's what we have."
Throughout his time at BLHS, Keeler has always tried to be a team player. The same can be said for the way he views his role with these tournaments. But as the compliments and credit continue to pile up, Keeler can't help but crack a smile.
"I appreciate the recognition from others," he said. "It means a lot to me. But I really look at myself as a component of a team. All team members have their roles, and I guess mine is to coordinate these events."
Coordinate, serve as the public address announcer, provide and carry water to the teams and officials, clean up after the games are over and be available to answer any questions that may arise. Keeler pretty much does it all. But he wouldn't have it any other way.
"I thoroughly enjoy the tournaments," he said with pride.
One of the main reasons Keeler is able to enjoy the action on the floor is because the team behind him is rock solid. Like a quarterback who has great faith in his all-pro receiving corps, Keeler is more than happy to sit back and let others do their jobs. And he said because so many members of his staff have helped with the tournaments for five years now, the most recent installment went smoother than ever.
"It's definitely a team effort," Keeler said. "I like to know that I have the faculty and the support staff that will help and take pride in showcasing our community and our school. I'm a big believer that any time you can provide positive opportunities for kids you should do it. That's what we're here for as educators."
Keeler's faith in his staff does not go unfounded. In fact, the same faith and grateful attitude he has is returned by those whom Keeler makes life easiest for -- his coaches.
"I would have to say that Mr. Keeler is one of the most dedicated people here at BLHS," girls basketball coach Mardy Robinson said. "His ability to run two successful tournaments back-to-back is a credit to his hard work and gregarious personality. He's just an all-around good guy. As a basketball coach, I really appreciate everything he does in support of the program."
Humbled by such kind words, Keeler simply sits and smiles. In many ways, he's a simple man; a man who likes nothing more than to see something he's helped create transform into something so successful.
As the tournaments make the turn to the latter half of their first decade of existence, Keeler's vision for the future has not changed. Waiting lists are common for both tournaments, with as many as six schools holding their breaths for an opening in the wrestling tournament and three or four holding out for a spot in the hoops bracket.
As he watches the tournaments grow -- and sees his responsibilities level off -- the man behind Basehor-Linwood's biggest athletic events swells with pride.
"Both tournaments have improved throughout the years in terms of strength of competition and attendance," Keeler said. "I am extremely proud of the Basehor-Linwood School District, and our school, and it makes me happy that I can do my part to make our community shine."