Averill shares day with rival coach
The search is on at the Kansas Wrestling Coaches' Assn. to find out who is the winningest wrestling coach in Kansas high school history.
The search is partially the result of a rare feat witnessed in the Lansing High School gymnasium last Thursday when both LHS coach Ron Averill and Silver Lake coach Harry LaMar earned their 200th career dual victories on the same night. Reaching the 200-win milestone is a special accomplishment in itself, but to have two coaches do it on the same night - in the same gym - is unheard of. It may be the first time that has ever happened in the United States.
"It's pretty amazing," LHS coach Ron Averill said of reaching 200 wins on the same night. "It's pretty impressive. I have a lot of respect for Coach LaMar, so it's pretty cool (to do it together)."
LaMar also said he was excited to share the evening's honors with Averill.
"That's gotta be unusual to have happen," LaMar said, "but it was fun because we've done so many battles through the years. It was kind of neat to get it on the same night, and it was a fun dual. : Exhausting."
The coaches' overall records are eerily close, too. Averill is 200-70-1 in 21 seasons. LaMar is 200-71-1 in 20 seasons.
Averill reached the 200-mark about two hours before LaMar. Lansing defeated Hiawatha, 72-3, in the first dual of the night to give Averill his landmark victory. Then Silver Lake whipped Hiawatha, 66-7, to give LaMar No. 199.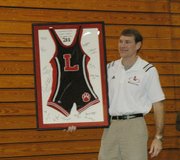 The Lansing-Silver Lake showdown was and epic battle, however, as the Lions tried to deny LaMar his 200th win. Each squad won seven matches, but the Eagles had five pins to LHS's three. That was the difference as Silver Lake won, 36-30, in a dual that came down to the final match.
"The guys stepped up and we had some great matches," Averill said. "We won some big ones. We lost a few big ones. We can be disappointed with the outcome, but we can't be disappointed with the way we stepped up and competed."