Budding thespians direct one-acts
Talking to Elena Stephenson and Ashley Kings is easy. They're not self-absorbed or self-obsessed; they're just not self-conscious.
"I've never been afraid to talk in front of people," Stephenson said. "I've always been the type of person who likes to be in the spotlight, and I've always been comfortable giving presentations in front of people."
Stephenson, a small, blond Lansing High School senior, likes to gesture with her hands a lot and breaks into a grin without much prompting.
She and Kings are the two directors for this year's one-act productions, which will be performed in February. Though rehearsals are just starting, both have put considerable thought and time into the process already.
Stephenson picked her four-person play, "Dreamwalk," from a bookstore on Metcalf Avenue months ago while looking for audition monologues. Kings went to Leavenworth to sift through possibilities.
"I went through script after script," Kings said. "I didn't want to have a small cast because I wanted everyone to get involved. I sat down one night and did a character sketch in my head for all the characters."
She said before auditions she was a little nervous - or, as she puts it, "freaking out."
Despite her jitters at auditions, Kings is lively onstage. She said she admires actor Jim Carrey because his acting style.
"I'm a jokester," Kings said. "I like to put a lot of energy into (theater). I like to let it out and just be crazy."
Kings, dark-haired and immediately lively, doesn't shy away from demonstrating what she's talking about.
In the play she's directing, "Frankenstein Slept Here," there are characters with several different accents and mannerisms. Kings throws herself into the spirit of the play during conversation, her voice a high whine when imitating Igor, deeper and with a slight Eastern European accent when demonstrating the vampiress's lines.
Both aspiring thespians are engaging to be around. They're enthusiastic when discussing their craft and serious about their plans for the future.
Stephenson plans to attend Abilene Christian University in Texas, though she's not sure yet if she'll pursue performance or directing as a major. Either way it's theater, and either way she plans to try the professional acting route to see how far she gets, at least for a time.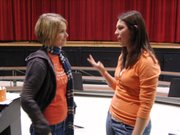 "At an early age I knew I wanted to be involved in theater," Stephenson said. "I started taking acting lessons when I was 9 or 10."
Stephenson participated in productions through middle school but didn't become serious until she joined drama club in high school. She said her favorite theater memories came from drama club - warming up before opening night, going to Applebee's with the cast after shows and rehearsals, sharing inside jokes.
Stephenson spends her spare time reading plays, partly to gain a better knowledge of her chosen career and partly to look for monologues for auditions.
"I just finished reading 'A View from the Bridge,'" Stephenson said. "My all-time favorite play is 'Who's Afraid of Virginia Woolf?' by Edward Albee. Right now I have, like, 15 plays I need to read before the end of this month."
Stephenson's affection for Albee's play stems from her interest in complex stage relationships.
"I think good relationships make a good script. Just really complex relationships you can analyze. They don't have to be romantic relationships," she said. "If I can analyze relationships or the characters really well, then I'll probably like the play."
Kings is thinking of attending Washburn University but, like Stephenson, isn't yet sure of her concentration.
"I'm thinking acting, but it could go directing," Kings said. She, too, is committed to drama, and wants to spend at least some of her career onstage. A musical theater fan, Kings got her start in a revue of "Annie" in Leavenworth.
Now her favorite musical is "Wicked," currently playing in New York. For years Kings has performed and worked with the River City Community Players in Leavenworth. She's worked backstage and done lighting and stage-managing.
Still, Kings said, she loves being onstage.
"You have to grab the audience," Kings said. "You want them to sit at the edge of their chair saying" - here her voice drops and changes to indicate a theater-hungry audience member - "I want more, I want more."
In 10 years, both young women hope for performance-related careers.
"Ideally I would like to be - this is really kind of pretentious - but I would like to be owning my own film company and writing and directing and starring in my films," Stephenson said. She worked in a film last summer and enjoyed the change of pace from stage work.
"When you're onstage, a lot of it is body movement and voice projection," she said. "But I like acting with facial expressions a lot more than gestures and voice."
Kings is more succinct, though every bit as passionate. When asked where ten years would take her, ideally, she sighed and smiled.
"Broadway."